---
The habit of using a gamepad is sometimes an obstacle when playing games on a PC screen because not all games support gamepads. Even if you force yourself to use a keyboard and mouse, your fingers will not be as agile as usual. The number of Xpadder downloads shows that there are more than four million gamers who experience the problem.
Xpadder is an emulator that also functions as a keymapper for gamers who have trouble playing games if they don't use a gamepad. Even emulated games, such as the Amiga game emulated with WinUAE, can be controlled with a gamepad via Xpadder.
Xpadder Features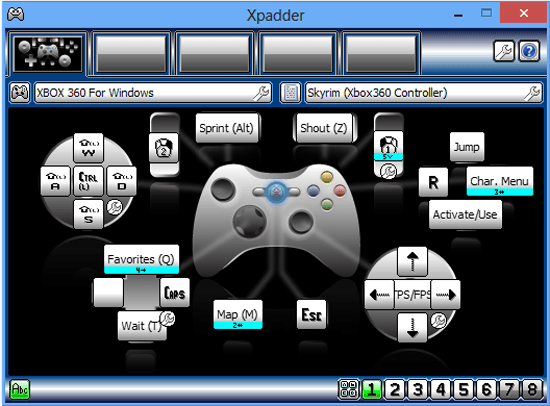 Xpadder has several features, and its most basic feature is to emulate keyboard and mouse functions to the gamepad. In other words, Xpadder allows gamepads to be used instead of keyboards and mice in gaming. The buttons on the gamepad itself can also be remapped as needed. For example, the button to shoot you can move from the B button to the X button.
Each button can also be set to perform more than one function. For example, if you press the X button, then what is sent is the command to jump, and if you press it for 1 second, the jump will be higher. The very flexible remapping feature allows you to determine the most convenient control configuration, ranging from the simplest configuration to even the most detailed.
Even more fun, the control configurations you've created can be saved as presets. You can also create and save different presets. This means you can create different presets for each of your favorite games. Adventure games, strategy games, first-person shooter, fighting, survival, stealth, role-playing, puzzle, board, MMORPG, life simulation, or whatever kind of game you prefer, the preset creation feature that Xpadder provides will make those games more comfortable to play.
The time it takes to create a preset depends on its complexity, but the ease you will get from the preset is usually worth the length of time you devote to creating it.
Download Latest Xpadder
Behind all its advantages, Xpadder also has disadvantages. Some games that you play may have an anti-cheat protection system that rejects input from the emulator so that Xpadder cannot be used for those games.
Xpadder's main feature is that it emulates a mouse and keyboard for games that don't support gamepads, but the key mapping function and presets it includes might actually feel more helpful to some gamers. So, even if the game you play already supports gamepads, Xpadder is still very useful.
Not only gamepads that can be remapped by Xpadder. Joysticks, steering wheels, drum kits, and arcade sticks are all supported. Download the latest Xpadder for free via the link below:
↓↓↓ Download ↓↓↓