At the One More Thing event, Apple also announced a new Mac mini that uses its own M1 chip . This is the first new Mac mini Apple has launched since 2018.
Wednesday (11/11/2020) Apple claims the new Mac mini is 60% more power efficient thanks to the M1 chip. Mac mini can be equipped with RAM up to 16GB and SSD up to 2TB.
The Cupertino, Los Angeles-based company also claims the Mac mini has a CPU that is three times faster and graphics six times faster. Apple says the Mac mini can be used with two external displays, one with a resolution of up to 6K and the other up to 4K.
Available DisplayPort options include two Thunderbolt ports / USB 4 / Ethernet port, an HDMI 2.0 port and a 3.5mm headphone port. But the new Mac mini has fewer Thunderbolt ports than the 2018 version which uses an Intel chip.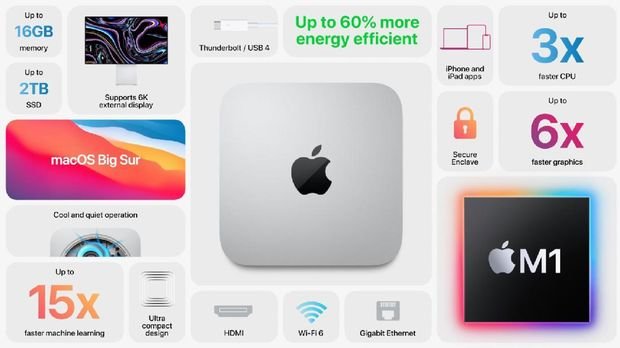 With the M1 chip, Apple claims the Mac mini can perform multiple tasks faster than its predecessor. For example, playing Shadow of the Tomb Raider with a frame rate that is four times higher and the rendering process in Final Cut Pro which is six times faster.
The Mac mini is Apple's third device to use the M1 chip after the Macbook Air and Macbook Pro. But Apple still sells Mac mini with eighth generation Intel Core i5 and i7 chips for the high end version.
The Mac mini variant that uses an Intel chip has a different color, namely Space Gray (the M1 variant has a Silver color). This variant also supports three displays with resolutions up to 4K or one 5K display and one 4K display. The Mac mini that uses Intel also supports up to 64GB of RAM, while the M1 variant is stuck at 16GB.
Apple released the Mac mini M1 with 8GB RAM and 256GB SSD at a price of USD 699 or around Rp. 9.8 million. There is also a variant with 8GB RAM and 512GB SSD which is released at a price of USD 899 or around Rp. 12.6 million. For the Intel i5 variant with 8GB RAM and 512GB SSD the price starts at USD 1099 or around Rp. 15.5 million.