In this article, we will discuss what a VPS is and its relationship to hosting & domains, especially to run a website. Some users don't know that in server hosting, the resources are still shared with other users. This certainly makes it difficult for users who want private server management . On the other hand, they are not aware of any VPS. Actually, what is a VPS and what does it do?
What is VPS?
A Virtual Private Server (VPS) is a private server whose overall resources are only used by one user and are not influenced by other users. Users can fully manage all the configurations and resources available on the VPS and do whatever they want.
The technology used by VPS is virtualization of physical server hardware which is then divided into several different resources. Called virtual because this division is done using software so that in one physical server there can be several Virtual Private Server running.
If likened to a residential area, then the physical server is a complex and the VPS is the house you live in. The spaces in the house, such as the parking lot, living room, bedroom, kitchen, garden, and so on, are described as Random Access Memory (RAM), Central Processing Unit (CPU), disk space, and bandwidth. The house and its rooms are not affected by other houses. All forms of activity can only be done at home.
VPS Function
Knowing the ins and outs of a VPS will make it easier for you to determine the right type of service. Here are some of the functions and uses of VPS that we have summarized.
1. Super High Traffic Website
If you manage a website with super high traffic, Virtual Private Server is the right service for your website. If you are using a shared hosting service, you can switch services from shared hosting to VPS services.
Super high traffic on websites that are still using shared hosting services can result in domain suspension because it has the potential to interfere with the shared resources used by a shared hosting.
Usually the hosting service provider you use will notify you if the traffic on your website is too high and you need to switch to a VPS service. In addition, you also need to check website traffic regularly to determine when is the right time to switch services to a VPS.
2. Small-Scale Web Hosting
For those of you who have a website creation service business or developer, you can use a VPS service for web hosting your clients. By using a VPS, you have full control over the websites that use your VPS service.
3. File hosting
Maybe you are familiar with sites like MediaFire, Zippy Share, Dropbox, Google Drive, and various other file storage sites. These online file storage sites make it easy for you to store and access files online.
VPS services also allow you to store large files, both for personal access and for visitors to your website. You can't find this feature in shared hosting services because usually shared hosting disk space is only allowed for website creation purposes.
If you need online file storage features such as backup storage, file sharing services, movie storage, photos, software, and other large file storage, VPS is the service that is right for you.
4. Remote Desktop
VPS also allows you to access and use a computer or server remotely. You have full control of the server without being restricted by location. You can control the server wherever you are.
5. VPS as VPN
VPS can also be used as a VPN or Virtual Private Network. VPNs are briefly defined as networks that are connected via the internet, but can only be accessed by certain people.
The VPS function as a VPN can be used by companies or organizations that need a private network for their employees or members only. Companies or organizations can use their VPS as a VPN to store important data and can still exchange data safely while in the VPN network.
6. Trial Server
If you are developing software, applications, operating systems, or frameworks, of course you need a server at an affordable price, but provide sufficient facilities for testing software or applications.
You can just use a dedicated server, but the price is of course very expensive. As an alternative, you can use a VPS service to conduct experiments. VPS services are relatively cheaper than dedicated servers, but they already provide enough features for a trial stage server.
7. Private Backup
Usually, VPS service packages are specifically listed as providing how many gigabytes of disk space.
When Should Shared Hosting Switch to VPS?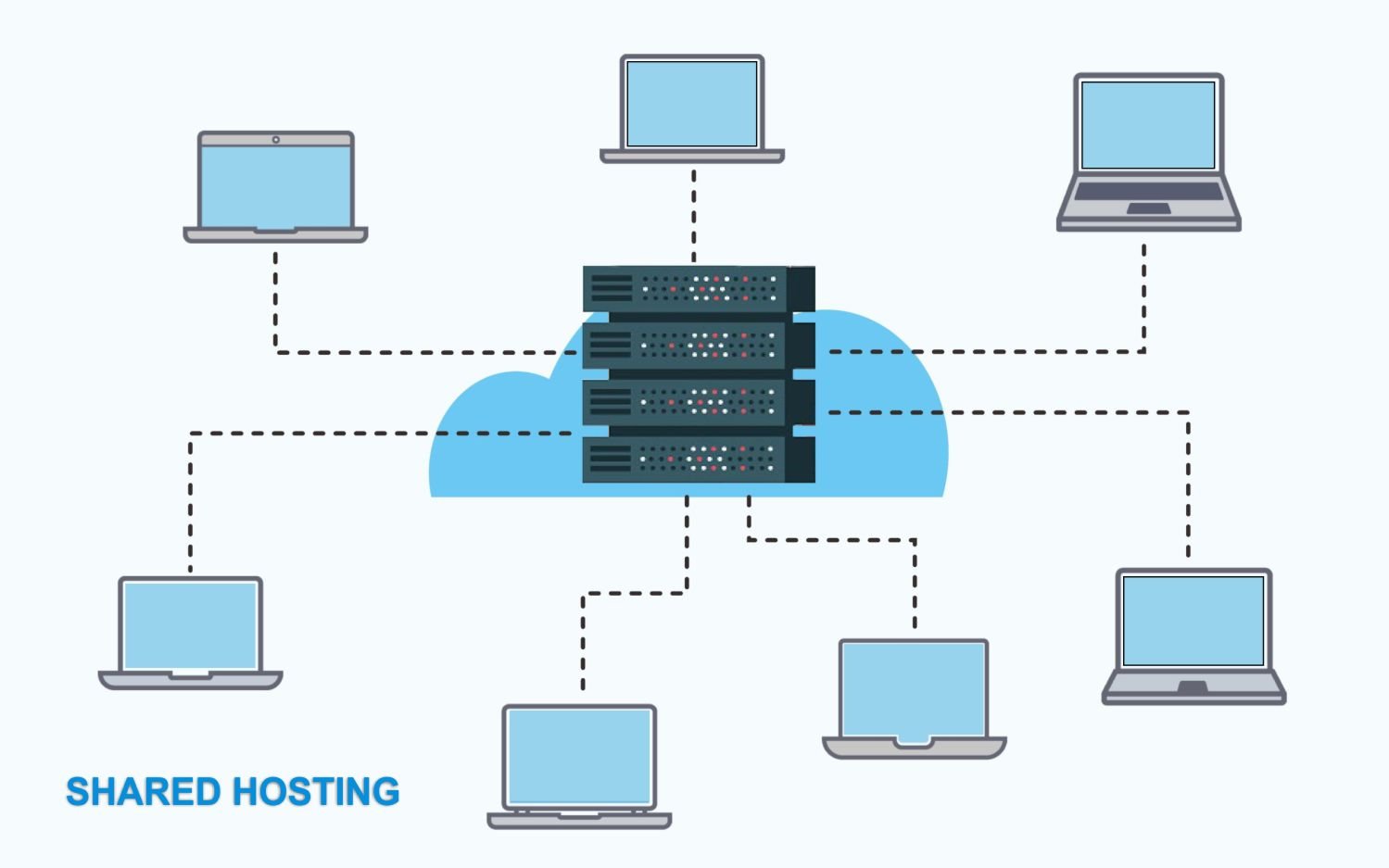 After knowing the seven functions of VPS, the next thing you need to understand is when is the right time to switch from shared hosting services to VPS.
1. Website Traffic Too High
When your website starts to get too high traffic, you should immediately move from a shared hosting service to a VPS service. Why should you move immediately? Because the resources you use on shared hosting are shared resources. So disk space and bandwidth in shared hosting are used for several different websites.
When one of the websites in the shared hosting uses too many resources to exceed the existing provisions, it will certainly interfere with the performance of other websites in the same shared hosting.
The worst case is that you could get suspended from the company that provided your shared hosting service. However, usually the hosting service provider will give a warning if your website is already using too many shared hosting resources.
2. Full Control of Server
If you run a large company or organization that requires full control of the server, of course, shared hosting services are not enough for you. By using a VPS service, you have complete control over the server and all its settings.
3. Large File Storage
Usually shared hosting services do not allow users to store large files because it can interfere with the performance of websites that are under the same shared hosting.
Therefore, if you need a large disk space provided only for your website, you should use a VPS service. Besides being able to choose how much disk space you need, you won't be bothered by other users because the disk space you buy is not shared like shared hosting services.
4. Better Server Security
Because you have full control over the server, VPS security is more secure than shared hosting services. You can set the VPS security configuration according to the standards you need. In addition, disk space and bandwidth in VPS services are not divided up as in shared hosting, so they are safer and more stable.
5. Sufficient Knowledge to Manage VPS
The last point is the most important, namely sufficient knowledge in managing VPS. In general, VPS services available in the market are divided into two types, namely managed and unmanaged.
Managed VPS service is a service where the VPS provider company manages the settings and configuration of the VPS that you buy. Meanwhile, an unmanaged VPS service is a service where the settings and configuration are done independently by the user.
Most VPS providers provide unmanaged VPS services. Therefore, you should be able to manage your VPS independently. If you can't manage it yourself, you can use the services of someone who can manage a VPS for you.
Differences VPS with Other Web Hosting
Each type of web hosting allows you to perform various customizations on the server. Each web hosting is different, depending on price, performance (for example, page load times), and also service availability (for example, uptime). Below we will compare VPS hosting with other web hosting.
Shared Hosting
Shared hosting is the best choice for site owners whose website traffic is still not high. This hosting is the starting point for most bloggers as well as simple business websites. Using shared hosting means that you have to share the same physical server with a number of other clients who are also using hosting services from the same company. There will be no dedicated resource allocation for you because your site runs on the same operating system as other clients.
Thus, the memory and  computing power  that your site uses will be affected by the needs of other service users. For example, if suddenly the amount of traffic increases sharply on a website that is online on the same server that you are using, then your website loading time will take longer. You can't choose the operating system, even the server software because all users use the same configuration. In general, it is your hosting provider who manages and administers every aspect of the shared hosting platform.
Think of shared hosting as a place to rent and you share apartment space with several residents. The function of VPS hosting, on the other hand, is the same as a flatshare (flat building) where each occupant has a space that they can modify according to their wishes and needs. For example, residents may add paintings, furniture, decorations, and others.
Cloud Hosting
Cloud hosting allows you to use a set of servers, not just one, running in the cloud. Each of the servers in the cluster keeps an up-to-date copy of your website. When one of the servers becomes very busy, the cluster automatically redirects traffic to a server that is not so busy. For this reason, there will be no problems regarding downtime if you use cloud hosting because there is always a server in the cluster that will forward requests from your website visitors.
Cloud hosting and VPS hosting have their respective advantages. But uniquely, most hosting companies offer VPS hosting that runs on a cloud infrastructure. You can also find this type of hosting on Hostinger. We combine VPS and cloud technology to deliver the best performance and reliability on a virtual server platform.
WordPress Hosting
WordPress hosting is a service that is specifically offered for WordPress-based website owners. This hosting provides various WordPress-related features that unfortunately you can only use if you have a WordPress-based site, such as one-click installation pre-installed  plugins, or WP command-line interface software. The server is configured according to the WordPress system and workings. For this reason, hosting providers offer WordPress hosting as one of their shared hosting services.
While it is possible to create a WordPress-based site on a virtual private server, you do not get access to a  custom-built server that is pre-configured with WordPress. However, if you still want a VPS to manage a WordPress-based site, then you can configure it according to the needs of your business site.
Dedicated Hosting
In dedicated hosting, you rent all the physical servers to get your business site online. If your website traffic is very high, then dedicated hosting is the best choice because dedicated servers are fast, flexible, and can be modified or fully customized. However, the price of this service is not cheap. For this reason, dedicated hosting cannot be generalized, especially for those of you who only have a small and simple website.
VPS hosting allows you to choose and configure an operating system and server application, while the sophistication of dedicated hosting is not only limited to the operating system and application server. Not only software, dedicated hosting also allows you to configure the hardware because the entire server is yours and no one will interfere. You can also run a dedicated server  on-site (for example, at the office), but the downside is that you can't get help from a professional hosting team.
Considerations in Choosing a VPS
Choosing a VPS should not be careless. Generally, cloud server service providers provide different specifications. There are usually several options to choose from according to your needs. Of course, the greater the specifications offered, the more it will cost to use them. Here are some things that can be your consideration in choosing the right VPS.
One of the considerations that need to be considered in choosing the right VPS for a website or system is the hard drive used. Currently, there are many VPS providers that use SSDs to support the servers they provide. SSD can read data faster than SATA and SAS. In addition, the capacity offered also needs to be considered. If the disk space capacity that you rent is small while the needs of the website or system require large disk space, then the rented VPS may be suspended by the service provider due to overload.
Not a few users who develop their business using VPS services to store their client data. Unfortunately, some of them make the mistake of not doing regular backups. Some cases even show fatal errors, such as misconfiguration and other errors resulting in the loss of all data. Since no backups are saved beforehand, this problem can become more serious.
Not all VPS service providers in Indonesia put their servers here. Most providers instead use servers located abroad. Location affects the connection between the client and the server. Although it is not often a problem, some users consider this factor to reduce the delay that occurs when sending data to and from the server.
The final point to consider is the operating system on offer. Most servers use Linux to run their VPS. Linux is becoming a popular operating system compared to other operating systems. However, there are also VPS service providers that offer VPS with the Windows operating system. Just adjust it to your needs, whether you want to use Linux or Windows.
Location is not a problem for some users, but for users who need security and trust their data center is safe, location is one of the considerations. Because, not necessarily company A whose office is in the UK, the server is also in the UK. It could be that the VPS server used is in Indonesia or other countries.
Conclusion
VPS is closely related to virtualization technology where one physical server will be turned into several dream machines or virtual systems, which will be able to run operating systems and software that are not compatible.
Share This Article: