Best VPN App – Anyone know what a VPN is? We are sure that most SMARTPHONE users are familiar with the name VPN. Because VPN is often used as an application to open blocked sites. In general, VPN can be defined as a communication technology to access a public network privately by securing data packet transmission.
The way a VPN works that we know is by changing the network server to a private server so that data access can be encrypted. An encrypted server allows us to securely access the internet with a hidden IP address and location. As a result, a VPN can be a way to protect smartphone users from cyber attacks.
Andrid Best VPN Application
As you can see above, the mistake of choosing a VPN application is very dangerous. Moreover, on the Play Store, there are tons of VPN applications that can be downloaded for free, so we have to choose them. Now for those of you who are looking for the best Android VPN application that is proven to be safe and reliable, please download one of the VPN applications that we recommend below.
1. Intra
For those of you who are looking for a free VPN to watch Netflix, you must install an application called Intra. Actually, Intra is different from VPN in general. Even this application is not suitable to be called a VPN, because the way it works is by changing the Android DNS. Even so, Intra has the same capabilities as a VPN, which is able to open blocked sites.
2. 1.1.1.1: Internet Faster & Safer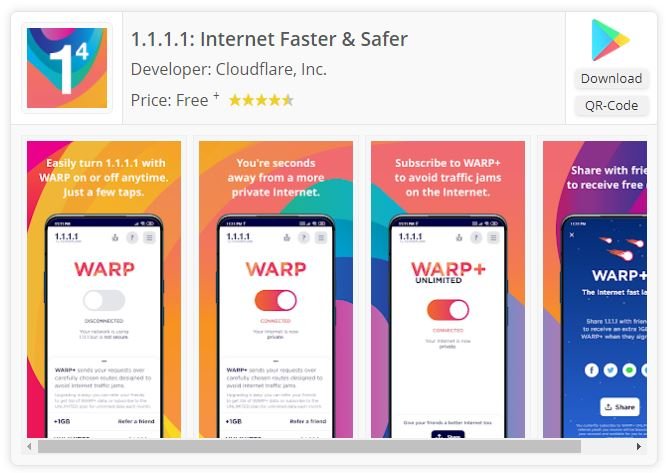 The way the 1.1.1.1 application works is exactly the same as Intra. This application will change the Android DNS to 1.1.1.1 which is Cloudflare's DNS service. DNS is able to improve the smartphone security system by changing the DNS protocol to be more secure.
The best VPN application for Android can also be used to access blocked sites easily and quickly, without a decrease in internet speed. Unfortunately this application does not provide settings to change DNS, because it is only specifically for DNS 1.1.1.1.
3. Turbo VPN
Not all servers available on Turbo VPN can be used for free. Even so, we can still rely on this application to access blocked sites. The quality of the servers available is also quite good, so you can still rely on it to access the internet quickly.
Apart from being fast, Turbo VPN is also easy to use. With one tap, we can directly connect to a fast VPN proxy server.
4. Thunder VPN
Thunder VPN offers fast and unlimited VPN access. This application uses a proxy server system that can be accessed via Wi-Fi, LTE, 4G, and 3G networks on all cellular operators. There are also quite a lot of servers available so that we can choose the one that is the fastest.
Each server has a different speed. It's a good idea to choose the closest server from your country so that internet access remains fast. How to use the best VPN application is also very easy, because just one tap and we can connect directly via the VPN network.
5. Free VPN Tomato
With Free VPN Tomato we can open all blocked content for free, fast, and of course unlimited. We highly recommend this one application, so you must try it if you are looking for a free VPN application that has fast and unlimited servers.
Interestingly, VPN Tomato has a feature to Bypass applications. This feature allows us to easily open blocked applications so that we can freely enjoy all content connected to the internet world. Now to try it, please download Tomato VPN on the Play Store.
6. Hola Free VPN Proxy Unblocker
One of the advantages of Hola VPN compared to other best VPN applications is that it integrates with the browser. That means we can directly access blocked sites through this application. In addition, Hola VPN provides lots of free servers from various countries around the world.
You will get the freedom to access all applications and websites when you install this Android VPN application through the Play Store. But you need to know, that not all available servers can be accessed for free. Because there are several paid servers that are specifically for business needs so that they are faster and safer.
7. VPNhub
There are tons of free VPN apps on the Play Store. But for those of you who are looking for a VPN that is stable and fast, then VPNhub can be the best choice. Applications are very popular with the number of downloads more than 10 million. VPNhub's popularity is proof that VPNhub is one of the best VPN applications for Android smartphones.
The downside of VPNhub is its limited server options. Where the available servers are American servers with military encryption standards. Even though it is limited, the quality of VPNhub's servers cannot be underestimated, because there are rarely free VPNs that use military standard servers.