After reviewing the list of the best photo editing applications, this time Matob will recommend a list of the best video editing applications for PCs. Not only are they the best, some of these video editing applications are also very easy to use for various purposes, for example the needs of YouTubers to edit their content.
This video editing application for PC has a variety of features that you can use in doing   cool video editing . Are you curious about   the video editing software that we recommend? Check out the following Matob review.
1. Adobe Premiere Pro
Not only releasing  software  for editing photos, Adobe also offers a video editing application for PCs called Adobe Premiere Pro. In this application, Adobe offers convenience and a variety of features to support good video editing.
It's no longer a secret that Adobe is considered an expert in  editing software  , both for photos and videos. In fact, the Adobe Premiere Pro application can be considered a video editing application that is commonly used by professionals. Want to edit  using Adobe Premiere Pro? Click here to  download  the application.
2. EaseUS Video Editor
If you are looking for  a video editor software   that is  simple  and practical, but is still equipped with various advanced features both in terms of visual and audio effects, then Matob highly recommends EaseUS Video Editor.
EaseUS Video Editor is an  all in one software   that is very easy to use for various  editing purposes , from cutting or dividing video parts, merging, rotating videos, cropping image sizes, compiling video clips, adding effects including transitions, as well as  color grading  and much more. yet another feature.
Oh yeah , EaseUS Video Editor can also be used on all Windows OS,  you know ! And not only that, you can also edit  and export videos for free.
This reliable software  is perfect for those of you who want to make various kinds of videos, be it educational videos, business presentations,  training materials , films,  marketing  and others. You can also use EaseUS Video Editor to edit videos, convert videos to MP4, and other video editing needs. Curious to try? Free  download, right here.
3. Beecut
If you need  a video editor  that is suitable for beginners, then Beecut is the answer. This application offers cool features that are easy to use. There are many transition effect filters, elements,  opening video templates  , and more available in this application.
One of the features that we appreciate is the dubbing  feature  . This feature makes it easy for you to record sound directly to the Beecut application. So, you don't need to use a separate application for   your voice input .
Apart from that, you can also convert voice to text or vice versa, convert text to voice. It's just that the voice to text conversion feature is only limited to English, Japanese, Chinese, and Spanish. At least, for now. It could be that in the future, there will be many supported languages.
In fact, Beecut supports extracting subtitles and converting them. Really interesting feature. Beecut also provides multiple layers for  media input  . An important feature so that users can be more creative with various existing media.
Beecut also has  powerful features. An example is the feature to record the screen and edit it directly in Beecut. There is also a feature to change the background ( background ) with the  Chroma Cutout feature .
Then there are also other interesting features for  zooming  in on certain scenes to give a different impression. There is also a feature that allows you to speed up certain parts, even to blur certain parts like the image below.
In similar applications, the process of trying various existing features and learning them takes quite a long time. Meanwhile, in Beecut, the process of learning the features needed for video editing activities, such as filters, effects, and others, is very easy to learn in even the shortest possible time.
Interested in trying Beecut? Please visit the Beecut website to see more detailed information and prices offered. 
One more thing, Beecut is available on various platforms. Not only for Windows PCs, Beecut is also available on Android and iTunes.
4. iMyFone Movie Video Editor
An interesting application and worth trying this time is called iMyFone Filme Video Editor. As the name implies, this application is stated to be able to edit videos easily because of its friendly interface for all walks of life.
This friendly interface is even supported by the presence of  tools  and a variety of powerful features. With these features, it's no wonder that iMyFone Filme Video Editor is quite in demand. Some of the best features present in this app are:
With the  fast mode feature,  users can edit videos quickly but the results are still satisfying. In it, iMyFone Filme provides various  video templates  with various unique and interesting themes.
This collection  of templates  makes it easier for users to edit  videos quickly. It's even more fun,  templates  will always be updated to suit user needs in the future, so the choice of  templates  is more varied.
The features in  basic editing  can function to  merge, crop, split, slow motion, cut/trim, rotate, adjust speed,  and other things. To make the videos even more interesting, iMyFone Filme also provides cool filters and special effects. Don't forget, the application even supports sending or  importing  files easily, you can use a  wireless device  or rely on  a QR Code.
Then, this application also supports voice recording and screen recording. There is also a feature to add music to the video background with one click . After finishing editing , users can immediately share the results with  one-click upload  to social media, such as Facebook/Twitter/YouTube/Vimeo.
The advanced features  in iMyFone Filme Video Editor also vary. Some of these features support  previews  to check the video before saving. Also, it provides  multi-layering  feature to incorporate various elements into one video.
The impressive thing is, this application supports the use of more than 8  audio tracks . Another advantage is that users are free to be creative and experiment with edited videos, can add filters, effects, stickers, text, and more to produce cool videos. Complete,  right ?
5. Corel VideoStudio Ultimate
VideoStudio Ultimate allows you to turn your photos and videos into movies with improved masking and tinting, new smart video tools, optimized performance, and premium effects. This application is relatively intuitive, so it can be learned and used easily by all skill levels.
One of the advantages of Corel VideoStudio Ultimate over its Pro version is that you can apply video stabilization to fix shaky footage with  proDad Mercalli . This feature is certainly very useful for fixing shaky handheld videos and bumpy action shots, so the results are better.
You can get a full Corel VideoStudio Ultimate license for $ 99.99. If interested, you can try a free trial for 30 days. Get the application here.
6. CyberLink PowerDirector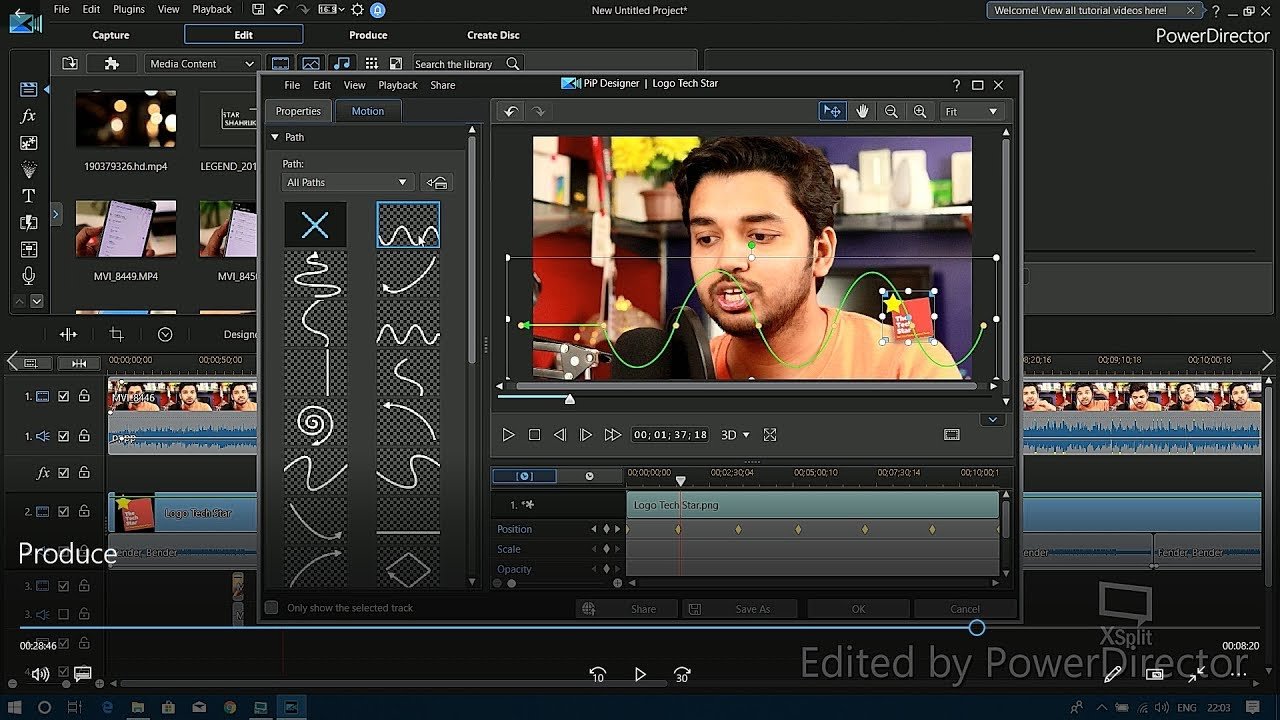 CyberLink PowerDirector is another video editor application that is chosen by creators in many countries around the world. crop, fix, add effects and publish – PowerDirector offers powerful editing tools with an intuitive workflow.
With PowerDirector, you create engaging content with powerful new effects, a streamlined user interface, and an ever-expanding library of resources. With its many advantages, it's no wonder this application has won a number  of awards  from several world-class technology media.
You might think that this application license sells for over $100. But in fact you can get PowerDirector with a budget of only $ 69.99 for an annual plan and $ 19.99 for a monthly plan. Interested in using PowerDirector?
7. Apple Final Cut Pro X
As the name suggests, this video editor application was developed by Apple for their Mac products. Final Cut Pro combines revolutionary video editing with powerful media settings and incredible performance to let you create at the speed of thought.
With an improved proxy workflow   , Final Cut Pro allows you to transcode your full-resolution media, bring in your 4K or 8K projects, and share libraries seamlessly with editors anywhere in the world. Plus, it features modern machine learning tools that automatically convert your widescreen projects to custom sizes for social media.
You can buy an Apple Final Cut Pro X license for $299.99. The price is high, but the quality it offers is at the next level of professional class. Want to try before buying? You can try a free trial for 90 days, you know!
8. Movavi Video Editor Plus 2022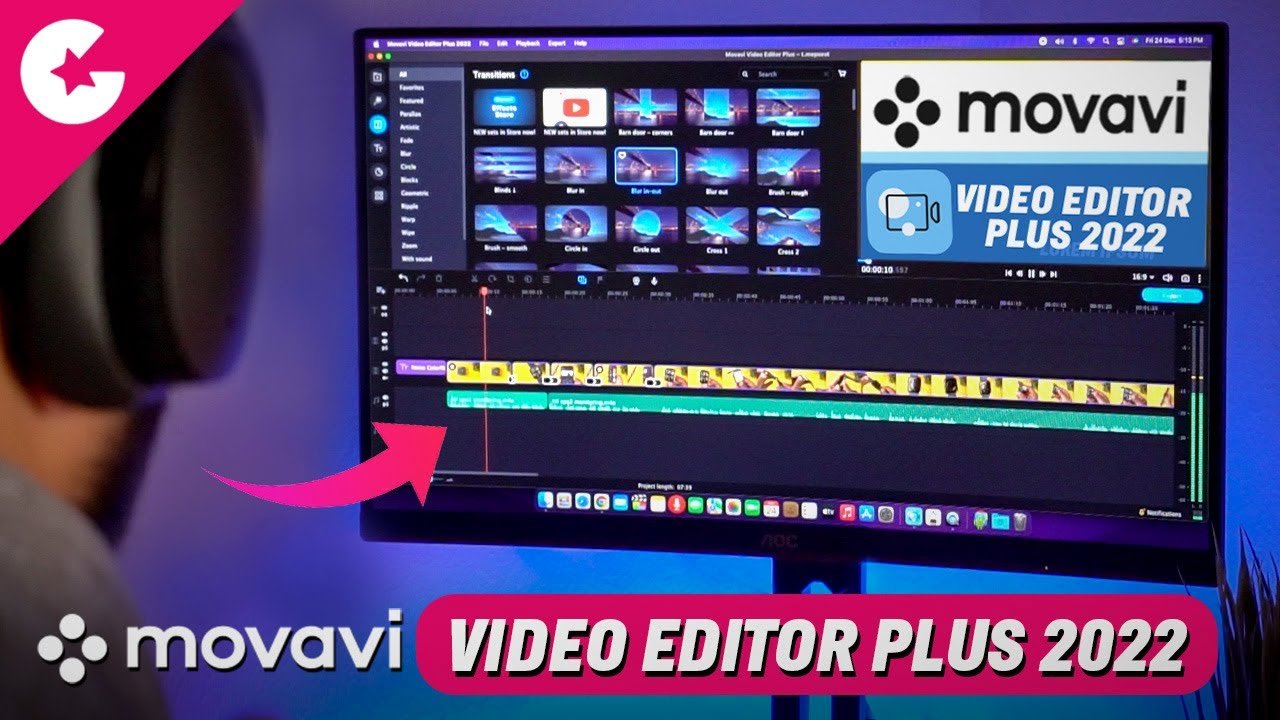 Movavi Video Editor Plus 2022 is equipped with various features that will simplify  your video editing process  . Some of them are adding titles, transitions and filters. There are also  special effects  such as  slow mo  and  chroma key  which can help you to change  the background  of the video.
This application has a  user-friendly user interface  . We tried it to edit a video by adding filters and transitions, as well as cropping parts of the clip. As a result, everything can be done smoothly without significant obstacles.
Unfortunately, this application is not free. However, if you download it for the first time, there will be a  trial version  that you get. The trial is available for one week. You can get this application at a price of $59.95 with an unlimited validity period. Movavi Video Editor Plus is available for   Windows and Mac platforms .
9. DaVinci Resolve
Need a PC video editing application that  supports  all OS? If so, you need to try the DaVinci Resolve application. This application can be used on Windows, iOS, and Linux. Apart from complete OS, DaVinci Resolve also has various powerful features where users can make  custom timeline settings, clip adjustments, facial recognition,  to  audio scrubbing.
Even though it has many features, DaVinci Resolve also pays attention to its interface. They designed  the interface  very simply so that even new users will have no trouble using DaVinci Resolve. But, please note that this is not a video editing application on a professional scale.
10. HitFilm Pro
We also recommend HitFilm Pro as software that artists can rely on. HitFilm offers editing , compositing, title creation, and 3D tools in one product.
HitFilm Pro has a variety of advanced features that can take its users' workflow to the next level. The app combines a wide range of features seamlessly, giving both amateur and professional editors everything they need to bring their projects to the end.
With all the greatness it offers, you have to provide a lot of funds if you want to work with HitFilm Pro. There are three license options that you can choose from with prices starting at $ 349. You can choose one of them here.
11. Pinnacle Studio
Are you a beginner wanting or just learning to edit  videos? Need  cheap software  with complete facilities that you can use? Matob recommends   the Pinnacle Studio software .  This video editing application for PC is indeed for beginners with a variety of basic video editing features  .
You can edit  videos even while learning to edit  videos. Users can hone their creativity in video editing with the Pinnacle Studio application. The quality presented by Pinnacle studio is quite good too,  you know . Do you want to learn   video  editing ? Download  the Pinnacle Studio application here.
12. Adobe After Effects
Adobe After Effects is a digital visual effects, motion graphics, and compositing application developed by Adobe Systems and used in the post-production processes of filmmaking,  video  games , and television production. Among other things, After Effects can be used for keying, tracking, compositing, and animation.
With this video editing app, you can create cinematic movie titles, intros, and transitions, remove objects from clips, animate logos or characters, and even navigate and design in 3D space. Adobe After Effects offers several license options that can be adjusted to your needs. Get the application here.
13. Lightworks
Another of the best PC video editing applications that we recommend is Lightworks. This one application is claimed to be able to edit  videos like you are a professional video editor. Yes, of course this is because of the various features embedded in the application.
Uniquely, Lightworks is capable of editing with support for HD, PAL, and NTSC resolutions. And the most impressive thing is, this application has been tested by professional video editors,  you know. Want to try too? Download  here.
14. HitFilm Express
Free? Of course you can choose HitFilm Express as a free video editing application for PC. This application is designed and made to provide cool and quality video edits. Not only  available for Windows, HitFilm  Express can also run on Mac too.
The features offered by the HitFilm Express application are also very useful to support video creation and editing . Are you interested in editing videos using HitFilm Express? If interested, you can directly  download  the application by clicking here.
15. Shotcut
Shotcut is one of the most reliable video editing applications on a PC. In its application, Shotcut offers  a very  friendly  interface  . So, for those of you who are just starting to try video editing, you can use the Shotcut application. In addition to its simple interface, the features in it are also very diverse where you can  trim  every existing video clip.
Not only that, users can also do  append, insert, overwrite, lift,  and ripple delete editing  on one  timeline  of the video being edited. What's interesting is that you can also detect audio in the video to be edited. Then, you can save the results with various resolutions. In fact, it can be saved  with 4K resolution,  you know !
16. Filmora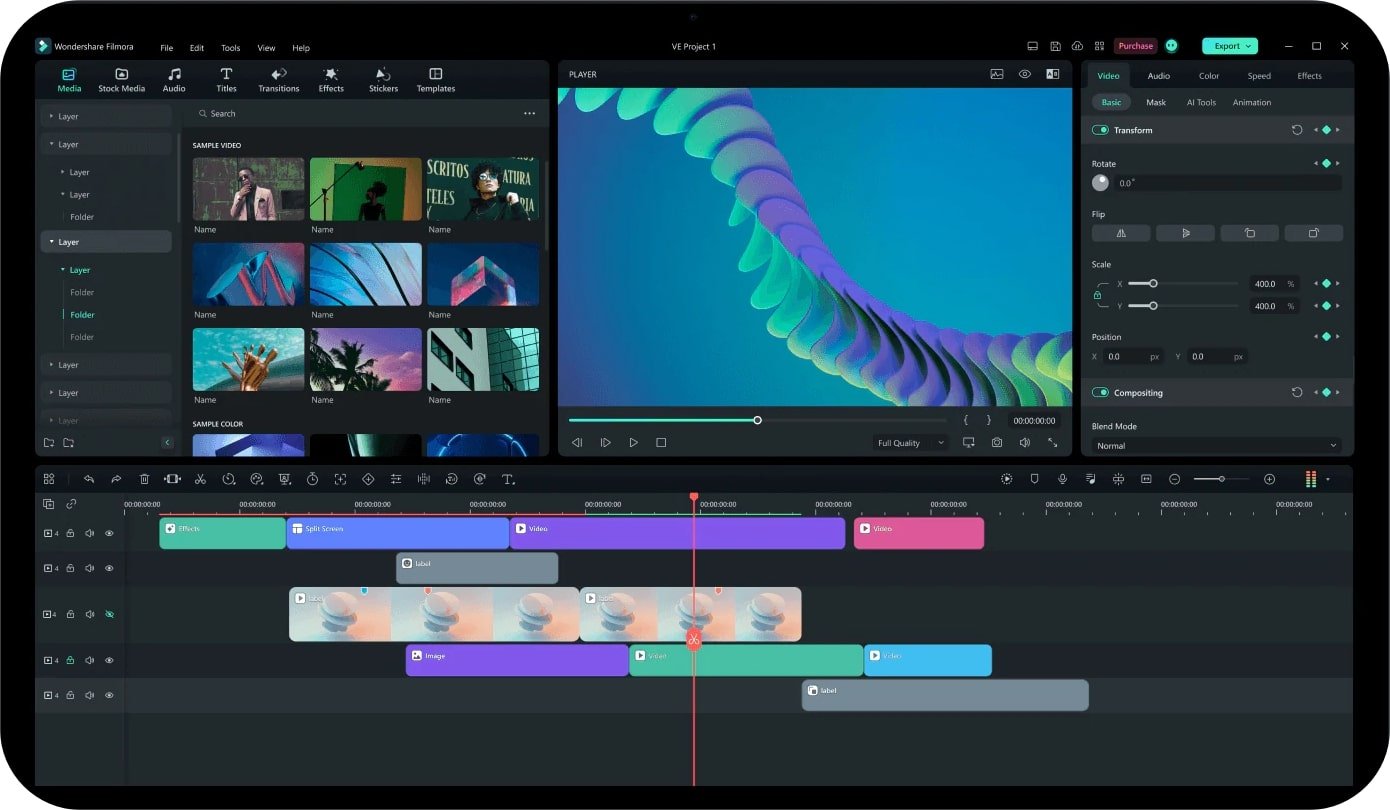 The name Wondershare Filmora may be familiar to your ears. This one video editor is very popular because it is considered friendly for users, even those who are still beginners. Talking about features, Filmora is actually not much different from  other video editors  .
You can add transitions, effects, animated elements, text, and much more. He cried, this application has a fairly complete directory. Text, photos, animation, everything is there and all you have to do is choose according to your needs.
The controls and  user interface are also very good. To add effects, for example, all you have to do is select the effect, then press OK to apply the effect to the video. As for transitions, just  drag and drop  them to certain parts of the clip.
Filmora supports  video output  in various formats, such as MKV, AVI, MP4, WebM, and many more. Filmora provides various subscription packages. One of them is a monthly package with a rate of $ 19.99 per month.
That's a list of recommendations for the best video editing applications for PCs with quality results. If you need a simple application for editing vlog videos, then you can also read our review of the list of the best vlog video editing applications.