Tinkpad-series has reached its 20-year career, until now the T-series is still named a laptop suitable for office workers. The T14s Gen 1 is the most superior laptop output among the ThinkPad lineup. The Lenovo Thinkpad T14s Gen 1 is the successor of the T-series T490.
The Lenovo ThinkPad T14s supplies two Windows Central units, one with an Intel Core i5-10310U vPro CPU and another with an AMD Ryzen 7 PRO 4750U. Both models include 16GB DDR4 RAM (soldered) and a 512GB PCIe M.2 solid-state drive (SSD), as well as a 14-inch 1080p touchscreen. The AMD version is priced at 9.8 million, while the Intel version is priced up to 20 million IDR.
Here are the complete specifications of the Lenovo Thinkpad T14s that we reviewed:
Prosesor: AMD Ryzen 7 PRO 4750U 1.7 GHz
RAM: 16 GB DDR4
GPU: AMD Radeon Graphics
Storage: 512GB SSD
Layar: 14 inch Full HD (1920×1080) touchscreen
Dimensi: 0.66 x 12.9 x 8.9 inch
Weight: 1.27 kg
Operating System: Windows 10 Pro
Battery life: 12:51
Thinkpad T14s Design
Compared to the ThinkPad T490s that were released in 2019, the T14s is almost the exact same dimensions and weight. This laptop uses a sleek and compact 14-inch screen, so it won't take up much space in a backpack or briefcase.
The two T series laptops have gone through rigorous testing, this process is to ensure the durability of the aluminum and carbon fiber polymers used. In the AMD version, ThinkPad only provides a black color variant, while on the Intel version you can get a silver color.
Port
The ports on both AMD and Intel versions are almost the same but with slight differences. On the Intel version, on the left side you will find USB-C 3.2, Thunderbolt 3, Ethernet extension adapter, USB-A 3.2, HDMI 1.4, and a 3.5mm audio jack. On the right side you will find a USB-A 3.2 and a Kensington lock slot.
Likewise with the port on the AMD version, although it doesn't have Thunderbolt 3, the AMD version has two USB-C 3.2 . And also the HDMI used in the AMD version is 2.0, not 1.4.
On the back of this Thinkpad laptop, you will find a combination of a microSD card reader and a SIM slot to add a 4G LTE quality sim card. Then, there's an optional Smart Card Reader that you can add to your laptop if necessary.
Connectivity
Besides being able to add a 4G LTE sim card to your laptop, this laptop has Wi-Fi 6 which can provide a stronger internet connection than the laptops that are rife today. The AMD version is supported with Bluetooth 5.1, while the Intel version has Bluetooth 5.0. The difference in Bluetooth quality on this laptop is certainly not a problem, especially if you already get Wi-Fi 6.
ThinkPad itself is very well known for its security features, and this laptop provides several security options so you can continue to feel safe. The webcam on this laptop supports the facial recognition feature, which is a plus for security but also has its own dark side .
On this laptop, the AMD version is supported with IR, while the Intel version is not. Both of these laptops are also supported by a fingerprint scanner that works well, and is located on the right side of the laptop.
---
Speaker
The 1W down-firing speaker used on this laptop makes the Thinkpad sound quality feel bigger and clearer. The laptop body is thin and light, it is also supported by bass and hardly distorts when you turn up the volume . One problem with down-firing speakers is the sound that breaks when the laptop is placed on a soft surface, whether it's a mattress, lap, or sofa.
The use of Dolby Audio will no doubt give you a better listening experience. As for the camera, the combination IR and 720p in the AMD model seems to offer a better picture even though it doesn't fall into the 'excellent' category.
Keyboard and touchpad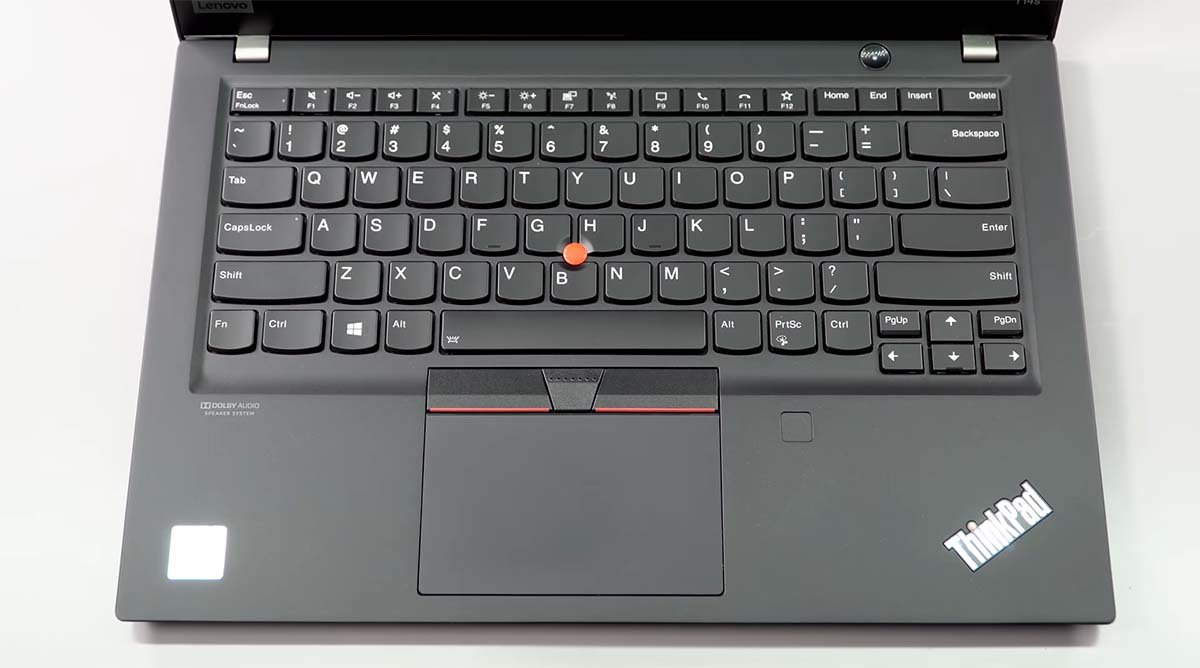 The AMD and Intel versions have slight differences in terms of keyboard layout, namely the Fn and Ctrl keys are swapped. If you are a loyal Thinkpad user, you will be familiar with the 'feel' of using this laptop keyboard. And even if you are new to the T series, you will easily adapt.
In our opinion, the touchpad used on this laptop works very well, and doesn't make it difficult for you to use it.
Display
If you deal a lot with graphics, be it graphic design, video / photo editing, we don't recommend using this laptop because the screen quality is still below professional designer standards.
ThinkPad T14s uses WVA 14 inches. The AMD version comes with a choice of Full HD 250-nit (non-touchscreen), 300-nit ( touchscreen) , 400-nit ( touchscreen) , and also 500-nit ( touchscreen) . The Thinkpad screen is also equipped with an anti-glare coating that makes it easy for you to stare at the screen even in direct sunlight.
If you want to have a 4K screen laptop, then you might be more interested in the Intel version. Still with a WVA screen, this Intel version includes Dolby Vision HDR 400 with 500-nit brightness.
The color quality on this laptop in our opinion is not bad. The AMD version display only reaches 62% sRGB, 46% AdobeRGB, and 46% DCI-P3, with a brightness of up to 337 nits. The Intel version's display isn't much better, reaching up to 65% sRGB, 49% AdobeRGB, and 48% DCI-P3, with up to 342 nits of brightness.
Performance and battery
Lenovo Thinkpad T14s no longer uses the Ryzen 4000 CPU, but has been replaced with a Ryzen 7 Pro variant. In addition, the T14s is also equipped with security features, extra management, and multithreading capabilities that provide extra performance on the laptop.
The 57Wh battery that supports this laptop also works well in both versions (AMD and Intel). On the Intel version that uses the i5 CPU, the laptop lasts up to 11 hours 3 minutes with daily use and a brightness level of 60%. Then on the AMD version that uses the Ryzen 7 Pro CPU, the endurance is slightly smaller, which is 10 hours 43 minutes with 60% brightness in everyday use.
This Lenovo Thinkpad T14s does have advantages and disadvantages that are balanced in each version. But when viewed from the quality, the Thinkpad T14s is more suitable for office workers who need a laptop that is on for hours, and is not recommended for graphic workers and designers because of the unsupportive color quality.