When a high end PC is a top priority to pursue, then you need a reliable power supply as your initial capital. This is where the FSP HYDRO PTM PRO 850W comes to meet these demands.
The question is, what could make it so interesting to consider? Curious, see more below.
FSP HYDRO PTM PRO 850W : What We Know So far
FSP itself is well known as one of the reliable and quite popular PSU manufacturers. In fact, they have the largest line of Power Supply officially listed on the 80plus.org site. So, at least it will give confidence that the label carried by the FSP product line can be very reliable.
Well, talking about the FSP HYDRO PTM PRO 850W series, if you look at the value of the price offered, it may be very expensive to reveal. Of course, the price tag of around $234.99 is quite stifling in the hearts of budget users with tight budgets. For this reason, this option is more ideal for those who need high-end users who need extra power to meet these large power needs.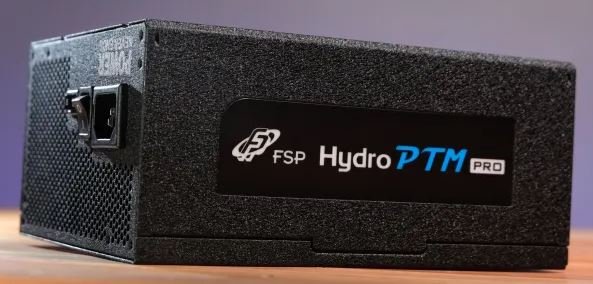 The design isn't too fancy, in fact it's similar to what we've tried on the Hydro G Pro Series . Although the texture of the fan output is slightly different. Only in its entirety, the built quality is well maintained, you can even change the default sticker to a more colorful option. But what makes it valuable is the presence of a conformal coating which is claimed to provide extra power protection from dust, stains and moisture.
FSP HYDRO PTM PRO 850W itself has a fully modular cable design, which of course will provide a lot of convenience in cable management. So, you can install the necessary cables according to your needs so that the cables can be trimmed easily.
Neat cables mean aesthetics is achieved, and the air flow in the case will be more effective at dissipating the heat generated by the device.
The flat cable offered by this PSU can also be positive, which of course is not a hassle when adjusting or adjusting the cable path in the case. And the manufacturers themselves offer a total of 32 connectors, which are divided into:
| | | | | | | |
| --- | --- | --- | --- | --- | --- | --- |
| | ATX 20+4 | 4+4 PIN | PCI-E 6+2 | SATA | Molex (PERIPHERAL) | Floppy |
| Cable Connector | 1 | 3 | 8 | 14 | 5 | 1 |
The warranty offered by FSP HYDRO PTM PRO 850W is also very long, up to 10 years.  So, there is very good certainty about the warranty, which means it will give consumers more confidence when they buy it.
Configuration Options
As for configuration options, FSP itself offers several Watt capacity options for the HYDRO PTM PRO series that can be adjusted to user needs, both in terms of needs and budget. The options range from capacities of 650W, 750W, 850W, 1000W and up to 1200W. So, we think this series can meet the large needs of users in the watt capacity variants offered. For more details, you can learn more details through the official FSP website here .
FSP HYDRO PTM PRO 850W Specification Details
| | |
| --- | --- |
| Specification | FSP HYDRO PTM PRO 850W |
| Model | HPT2-850M |
| Rated Output Power | 850W |
| Form Factor | ATX |
| 80 PLUS Certification | Platinum |
| Input Voltage | 100-240V |
| Input Current | 11-5.5A |
| Input Frequency | 50-60Hz |
| PFC | Active PFC |
| Efficiency | 92% |
| Fan Type | FDB Fan, 135mm |
| Dimensions(L x W x H) | 150 x 190 x 86 mm |
| Protection | OCP, OVP, SCP, OPP, OTP, UVP |
| Price | $234.99 |
The Hydro PTM Pro series itself has the official 80 Plus Platinum certification. That means the device will generate less heat and can provide lower operating costs. This means that at least there is a guarantee that this PSU will operate at a minimum efficiency of 92% at 50% load while the device is running. It should be noted that ratings can be valuable, especially when certificates attached to devices are proven to be valid.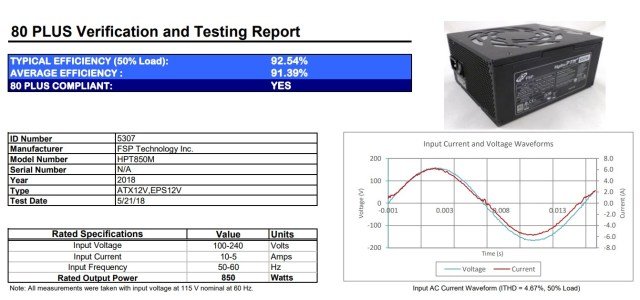 Overall, this PSU comes with an LLC Full-Bridge topology through a DC-DC module design. This technology may still be relatively new, where most old products still rely on Phase Shifted Full Bridge as the most effective bridge for high power DC / DC conversion. However, the presence of LLC Full-Bridge is now highly accepted because it can provide its own advantages for consumers, namely superior efficiency and stability values.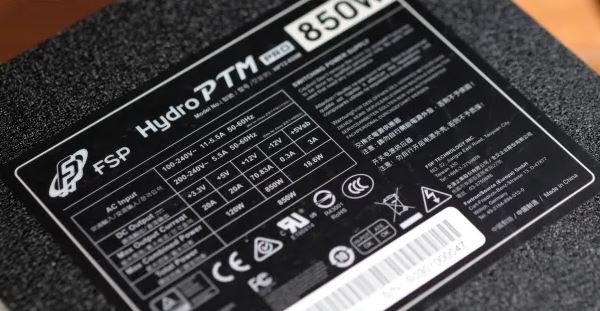 The FSP HYDRO PTM PRO 850W itself has a single 12V DC output with an 850W output. that means that the device is designed to deliver a maximum power of up to 850W according to what is offered on the label that carries the PSU itself. At least this can provide an important understanding that sometimes the label on the packaging can be different from what is offered on the PSU itself.
And best of all, Hydro PTM PRO is IEC62368 certified. This means that there is an increase in terms of safety, both in terms of design with more compact dimensions and much more ideal for various uses. The choice of internal components is also solid with the Japanese capacitor option as its top value.
Cooling support is sufficient, although not the best. Judging from the size of 135 mm, it can certainly provide extra cooling, including quite quiet when it is working full time. On the other hand, this PSU also has an extra button on the back with what they call the ECO Switch. This feature allows the PSU to operate more quietly and use less power.
And yes, the fan offered has its own advantages which manufacturers call it FDB. It has a 0dBA function which reduces noise and is claimed to have a long service life.
Final Thought
So, what do you think so far? The detailed specifications offered can be invaluable, especially when it comes to the 80+ Platinum rating, modular cable features, LLC Full-Bridge Topology for good stability and efficiency and of course the FDB smart fan. At least some of these superior features can be positive capital for consumers who do not know for sure Hydro PTM PRO.
In addition, manufacturers also dare to offer a long warranty of up to 10 years. That will at least provide certainty for those who are still worried about the issue of resilience. Even if we talk about the price, it's still relative, where the value of 234 USD may be very expensive for the user's budget. But when compared to options on almost similar products, the price value actually feels more affordable. Moreover, the PTM series is one of the choices for high-end FSP products, which of course is more devoted to PCs that need extra power.
Well, that's our brief review of the FSP Hydro PTM PRO 850W. Although we don't reveal everything, we hope that this content can provide positive information for those of you who are still curious about the PSU. So, I hope it's useful!