The arrival of the latest MacBook Air, MacBook Pro and Mac Mini variants on Wednesday, marks a new milestone for Apple. For the first time, the three computers used Apple's own chip, the M1, instead of the Intel Core series processors like previous generations.
The transition finally happened after years of rumors. Apple took a similar step in 2006 when it switched from PowerPC to Intel. Fourteen years later, this time it was Intel's turn to be left behind.
Rather than a "processor" or "CPU" like an Intel processor, Apple M1 is more accurately described as a System-on-Chip (SoC) like the Apple A Series chip, or Qualcomm Snapdragon in mobile phones.
This is because the M1 not only contains the main processor (CPU), but also other components such as the graphics processor (GPU), the AI processor (neural engine), the audio processor, to the DRAM which was previously placed separately on the MacBook.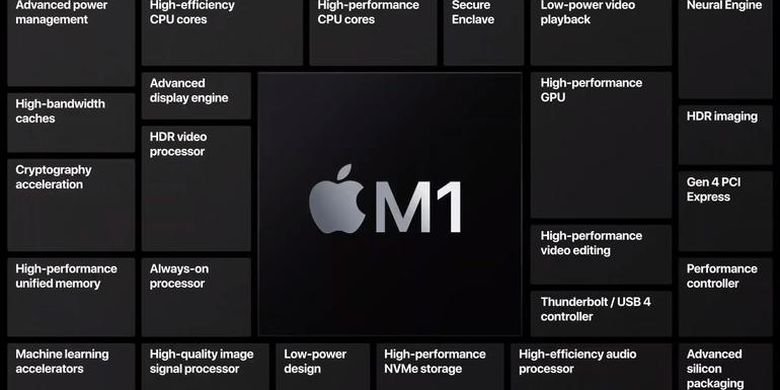 Like the mobile SoC, the M1 also uses the ARM architecture, not the x86, like most laptop and desktop processors from Intel. Inside are 16 billion transistors, or 35 percent more than the A14 Bionic iPhone 12 processor, with 11.8 billion transistors.
Made with a 5nm fabrication process, the M1 is equipped with 8 CPU cores which are divided into four high-performance cores and four power-efficient cores. The graphics processor has 7 or 8 cores, while the embedded DRAM capacity is 16 GB.
Claimed to be fastest, more efficient
On its website, Apple is making bombastic claims for the three new computers powered by the M1 chip. According to Apple, the M1 CPU can be 3.5x faster than the previous Intel processor, while the graphics processing performance is up to 5 times faster.
The manufacturer with the bitten apple logo also dares to say that Mac computers based on M1 are strong to be invited to run games with high graphic requirements.
Mac Mini, for example, is claimed to be able to run the Shadow of the Tomb Raider game with a 4x higher frame rate, compared to the previous generation (which uses an Intel processor).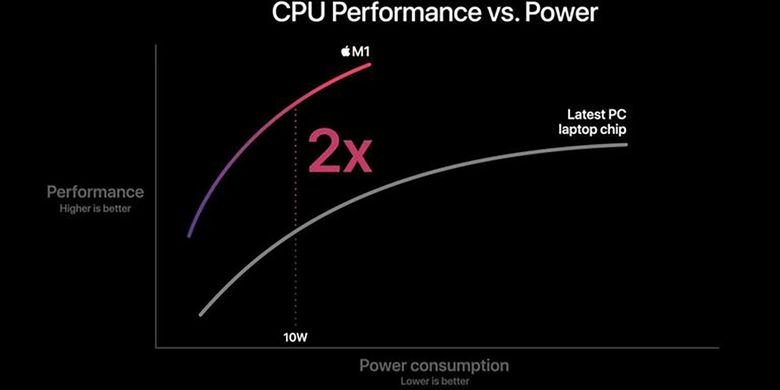 With this many times higher performance, Apple claims that the power consumption of M1-based devices is actually lower, which leads to more efficient battery usage.
The new M1-based MacBook Pro, according to Apple, has a battery life up to 2 times longer than the previous generation, reaching 20 hours for video playback, or 17 hours when used for browsing the internet via Wi-Fi.
However, in its announcement this week, Apple did not announce the exact benchmark numbers used to reference claims for increased performance and multiple-fold power efficiency.
Cannot upgrade RAM
One drawback of the M1-based system is that the memory capacity (RAM) cannot be increased because it is integrated in the System-on-Chip packaging. For now, the number is stuck at 16 GB.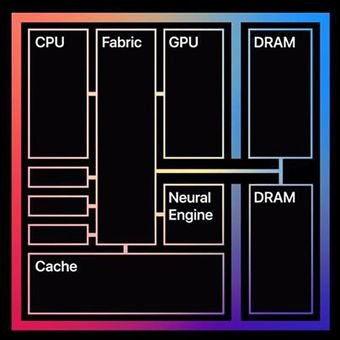 Maybe in the future, Apple will provide the M1 chip with a higher memory capacity or an expansion slot for upgrades. However, users who need more RAM currently have to choose an Intel-based Mac.
Interestingly, the M1 chip that powers the new MacBook Air, MacBook Pro, and Mac Mini impresses as the same Soc. According to ZDNet's observations, the difference may only be in the power allocation for the SoC, as well as its cooling which will directly affect performance.
The MacBook Air, for example, relies solely on a passive fanless cooling system, making it somewhat more prone to throttling, aka a deliberate performance drop by the system so it doesn't overheat.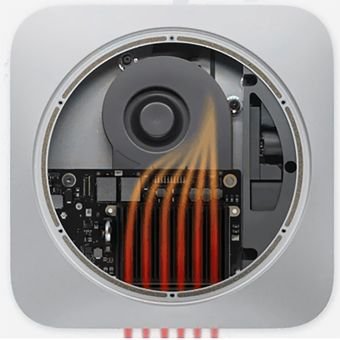 Unlike the case with the MacBook Pro and Mac Mini which are equipped with a cooling system with a fan, so it is possible to get maximum performance for longer, without having to reduce speed due to overheating.
In addition, the number of GPU cores in the M1 chip of the lowest version of the MacBook Air is also less, namely 7 cores, compared to 8 cores in higher versions or MacBook Pro and Mac Mini.
This may be due to the binning process, which is Apple's selection of the quality of the M1 chip, a good quality chip is allocated to a higher computer model.
Meanwhile, weaker chips were awarded for cheaper models, with modifications such as the processor cores being turned off to keep them runnaing within specification tolerances. This practice of binning is common in the semiconductor industry, including by big players like Intel.
Apple has been doing it for a long time. The A12Z chip in the 2020 model iPad Pro, for example, is the binning result of the previous A12X chip, only with more active GPU cores.
"Forced" to leave Intel?
Then, why does Apple feel compelled to leave Intel? Why now is the time? Apple may be "forced" to do that because Intel is unable to keep up with the pace of its products.
The Anandtech site presents a graph of the performance improvements of Apple's (A series, ARM) and Intel (Core series, x86) fastest processors from year to year. From this it can be seen that Intel has only managed to increase the performance of its single thread processors by 28 percent in 5 years.
Meanwhile, at the same time, Apple's chip performance experienced a 198 percent increase in performance, or nearly three times that of the 2015 Apple A9, until the latest model. Its performance is not only able to match Intel processors, but it can pass.
Intel's Moore's law vs Apple's Moore's Lawhttps://t.co/DpdGwldY4l pic.twitter.com/WfH8i5EC5u

— José Luis Ricón Fernández de la Puente (@ArtirKel) November 10, 2020
In other words, if you stick with Intel, then Mac computer products will overcome stagnation. Five years ago it may not have been obvious, but now the only way to make further improvements is to use a homemade ARM-based chip.
The reasons for this sloping performance increase are also said to be behind Apple's decision to switch from PowerPC processors to Intel for Mac computers in 2006.
Processors made by Intel at that time offered better performance and power efficiency than PowerPC. Ironically, the same is now true for Intel compared to chips made by Apple itself.
Another reason has to do with the limitations of Intel's manufacturing capabilities. The manufacturer is constrained by the production of 7nm chips which can only be realized as early as 2022.
Intel processors are still stuck with a 10nm fabrication process, which means the potential for speed and power efficiency is not as high as processors with smaller fabrication processes.
Meanwhile, Apple – which does not have its own chip factory, but is handed over to other parties such as TSMC, which also handles AMD chips – can switch to the 5nm fabrication technology implemented in the A14 Bionic and M1.
Can run the iOS application
Processor architecture changes cause incompatible software issues. In 2006, Apple solved this problem by using an emulator called Rosetta, so that MacOS applications written for PowerPC could run on Intel-based Macs.
Rosetta (version 2) is now being re-emerged to smooth the transition from Intel-based Macs to ARM (M1). The next question is whether the developers will participate in developing software for ARM-based MacOS?
At least applications made by big developers are certain to be available for ARM-based Macs, outside of Apple's own applications.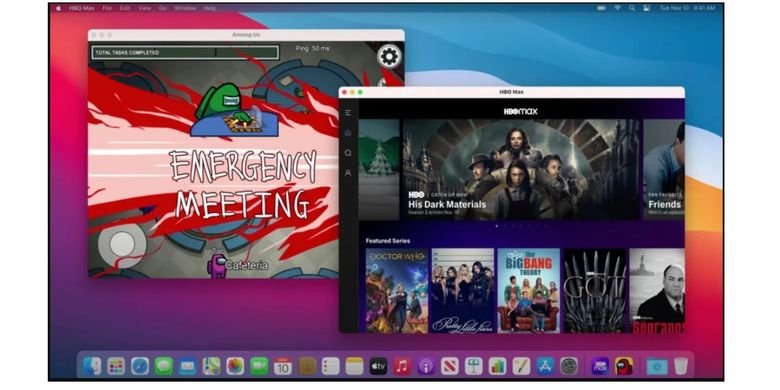 There are already a number of developers who are committed to doing just that, including from productivity categories like Adobe and Microsoft, to games like Baldur's Gate 3, and Beyond a Steel Sky.
Interestingly, because it is ARM-based like the iPhone and iPad chips, Mac computers that use the M1 chip can run iOS applications. The popular game Among Us that Apple promised for the Mac M1 is the ported result of the iOS version.
In the future, there will likely be more applications available for M1-based Macs. Like the fate of PowerPC in 2006, Apple's total transition from Intel to homemade chips was only a matter of time.