All IT-related professions are becoming increasingly trendy these days. It is not surprising to see that there are so many job vacancies that are opened, mostly related to IT, especially during the pandemic. One of the most sought after professions is IT support. Those of you who are interested in registering need to understand IT support job desk skills .
By knowing the job desk and specific skills, you will be able to complete all the tasks that are your responsibility. This position is very important for a company. Some activities that require IT support are computer companies, WiFi, LCD, and so on. You can find all information related to IT support here.
What is IT Support Job Desk Skill?
IT support is a technician whose job is to install, update, and evaluate computers, software, and network systems in a company. It can be said that the task of an IT support is very crucial for companies, especially software companies. An IT support needs to have broad insight in the field of Information and Technology.
Why is IT Support Mandatory for Companies?
All companies that exist today cannot be separated from the role of computers. The bigger the company, the more employees will use computers to complete various job desks. That is why jobs as IT support are increasingly in demand.
This IT support has a duty to deal with problems that occur and prepare everything that requires IT. Some of the tasks referred to are the installation of anti-malware on company computers and overcoming network problems. There are many more roles and responsibilities of IT support and will be explained later.
Responsibilities of an IT Support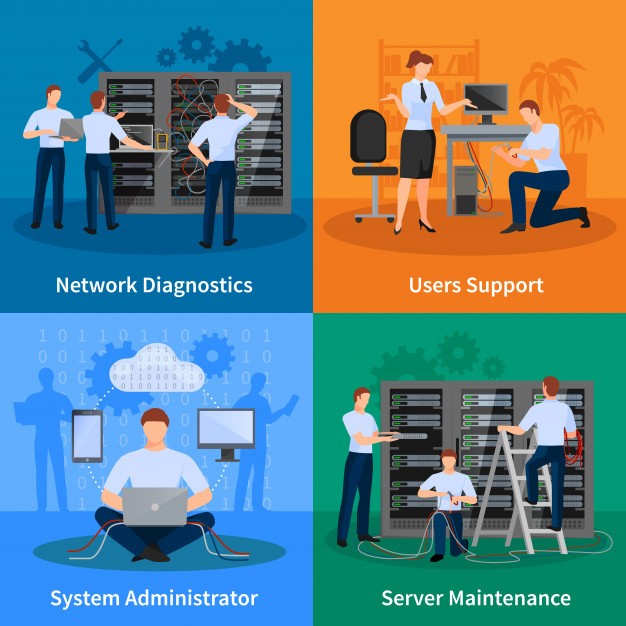 You understand very little about the role of the IT profession. Now is the time for you to know the overall IT support job desk skills . The tasks of IT support are:
Repair problematic computer networks
Fix a problematic system when the user uses it.
Perform updates every time the latest version comes from a system or application
Perform UPS installation on each computer
Install and configure antivirus to secure company computers
Perform cleaning the computer when a computer is infected with a virus
Stringing the data cable together with the network
Be able to distinguish the quality of the cable that will be installed on a computer network
Carry out back up of all company data
Able to recognize and solve problems that occur with printers, scanners, and so on
Educational Background Required to Become IT Support
Most foreign companies now don't even care whether you are a scholar or not. They look more at your portfolio. For them, a diploma or transcript is only the formality that matters most is your ability.
It's just that if you want to apply for a job as IT support, you need to have a minimum requirement to pass a Bachelor in IT. However, such companies are very few in number compared to those concerned with education level.
Skills and Abilities that IT Support Must Have
An IT support needs to be knowledgeable and have a lot of skills in the information and technology fields. The more skills you have in the two fields, the easier it will be for you to handle various problems at work. You must master some of these skills and abilities:
Understand and can master the Microsoft operating system
Able to work with fast and precise analysis when there are complaints from users about the computer
Understand computer hardware components and can assemble them
Understand wired and wireless networks
Can do programming with more than one type of software
Able to repair network immediately
Understand about malware and how to deal with it
Understand how to deal with computer-related devices, such as printers and scanners.
If you already have all the skills and abilities mentioned, then you must be confident to apply for work as IT support. Currently, there are lots of startup companies that need this profession. You have to be observant about job vacancies, because who knows there are some available in your city.
Listen to Advice from IT Support Experts
"You also need to listen to users well so that you can help according to their wishes. When users expect answers to their problems, you need to provide solutions, "said David Cox of Liquid VPN.
You don't need to explain in detail about the problem at hand, but act immediately to solve the problem. Sometimes users don't have the same level of understanding, because it's not their field. If they ask, maybe you can come up with an answer that is easy to understand.
Providing these solutions also needs to be done immediately. You have to remember that all businesses have clients who are also a race against time. Likewise with users who need to complete their needs as quickly as possible. The principle of Time is Money in every company is very much held.
Have These Supporting Skills To Complete Job Desks
Facing a machine is sometimes easier than dealing with a human who is full of drama. Relax, you are not the only one who thinks so. But life can't be like that. You can't always avoid humans whose lives have a lot of drama.
Need to learn patience and tolerance to be able to complete tasks as IT support. Sometimes it's your first time meeting a client and they can't control their emotions. Most likely they are angry due to stress at work and instead have to experience network problems or computer viruses.
In essence, work as IT support is similar to customer service. Listening to the complaints of many people about IT and most of them are impatient. When you are still able to be patient with many problematic consumers, you will be more appreciated. Not many people can be patient when people keep getting yelled at.