Portability is becoming more and more important day by day. Both Gadgets and laptops have certain specifications and designs, and many laptop users have dream designs on the laptop they are going to buy. One type of design that is trending lately is the trend of thin laptops.
If indeed you are looking for a thin laptop with adequate performance, you must get acquainted with this one laptop. DynaBook or what we used to know as the brand "Toshiba" released a thin and light sized product, but with undoubted performance.
Portege was once a laptop series from Toshiba which was known for its thin, light size, and aimed at high mobility. However, after Toshiba sold all of its laptop business shares to Sharp, many Sharp-style technologies were embedded in Portege laptops, such as IGZO technology.
One of the best products from the DynaBook is the DynaBook Portege X30L-G. Here's the full review!
DynaBook Portege X30L-G Design and Specifications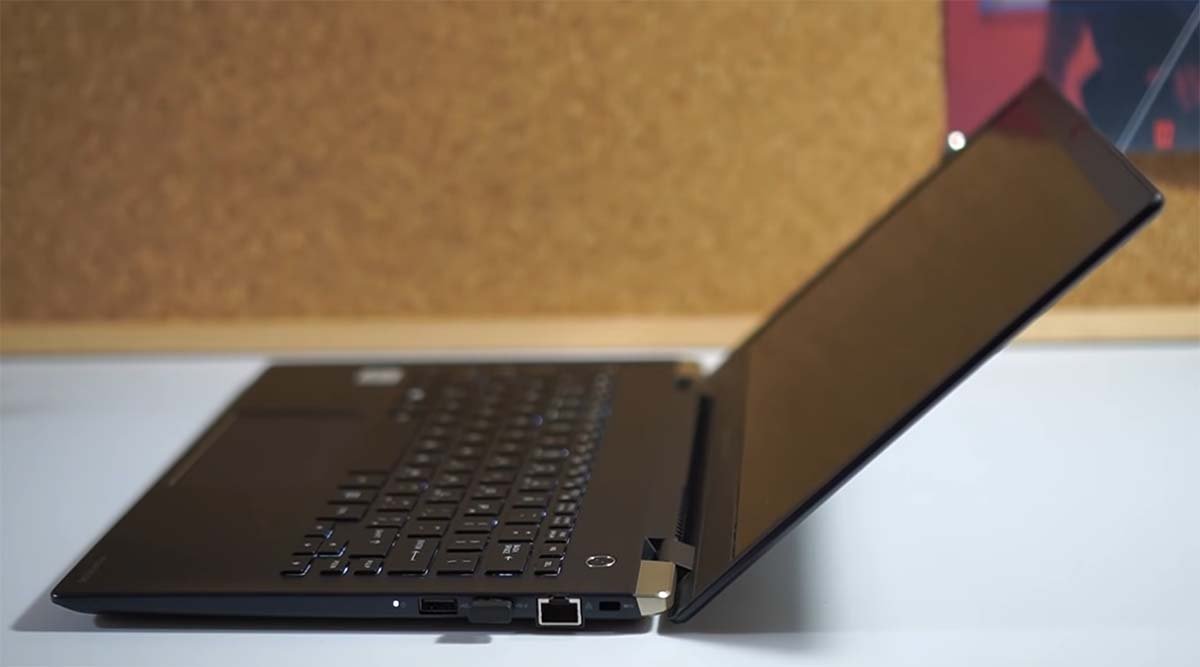 DynaBook itself claims, that the DynaBook Portege X30L-G is a laptop with a 13.3 "screen that has the lightest weight in the world, only 826 grams!
When viewed from the initial specifications, of course it is very clear that this laptop is very worthy of being called a business laptop that prioritizes a thin and light design as well as very adequate connectivity. Can this laptop also stand for everyday use by business people?
The raw material used for the chassis on this laptop is Magnesium Alloy, which seems to be intended to keep the laptop body light (but feels like plastic).
The body material used by the DynaBook Portege X30L-G has also passed tests and meets US Military Grade MIL-STD 810G standards. These tests include drop tests, temperature tests, humidity tests and dust resistance tests. This is to prove its strength in meeting today's business challenges. It can be concluded, if this laptop is classified as a resilient laptop!
For color, the DynaBook Portege X30L-G uses Onyx Blue color and dimensions of 30.8 x 21.1 x 1.79 cm. The charger that is issued to complement this laptop is no less light, which weighs only 143 grams. Even if the total is still under 1 kilogram!
The DynaBook Portege X30L-G uses an Intel Core i5-10210U Quad Core (1.6GHz up to 4.2GHz, 6M Cache), and has several other variants. The RAM used is 8GB DDR4 SDRAM on board and has an empty sodimm slot, which you can use to upgrade up to 24 GB (8 + 16) which automatically becomes dual channel.
The SSD used is 256 GB and the graphics system used is Intel UHD Graphics 620 which is intended for mobility only.
Complete specifications:
Prosesor: Intel® Core™ i5-10210U Quad Core Processor (1.6GHz up to 4.2GHz, 6M Cache)
RAM: 8GB Onboard SDRAM DDR4 2666MHz
GPU: Intel UHD Graphics 620
Storage: 256 GB PCIe NVMe SSD
Layar: 13.3″ Full HD Anti-Glare Display up to 470 NIT brightness (Sharp IGZO low power consumption screen)
Port: 2x USB 3.0 (1x Sleep & Charge), 1x USB 3.1 Type-C™ Gen 1 (supporting power delivery, data transfer and display), HDMI-out, RJ-45,
Headphone/Microphone Combo, microSD Card Reader
Battery: 4-cell, 42Whr Lithium Ion Polymer
Display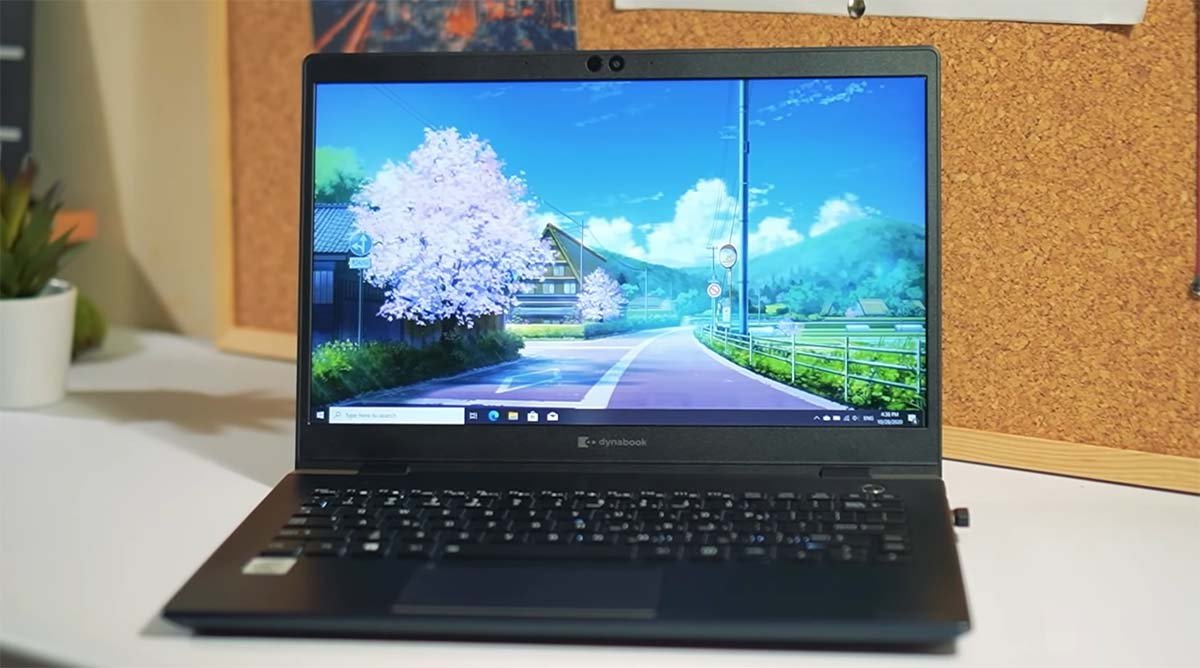 The bezel on the screen is quite thin with 8mm width on the right and left sides of the laptop, but it's still thick at the top and bottom for. The 720P 30FPS camera on this laptop is perfect for business or meeting zoom calls because the quality is sharp enough.
The screen uses an IPS design and uses Sharp technology, namely Sharp IGZO Technology. This laptop has a low consumption power and is suitable for you to travel with.
The screen is 13.3 "in size with Full HD (1920 x 1080) quality, 470 Nits and anti-glare so you won't get reflections when you're outside.
Audio and Port
The connector that supports this laptop is indeed complete. On the left side will be seen Port DC-IN, USB 3.1 Type-C gene 1, HDMI, Audio Jack Combo 3.5 mm, and MicroSD card reader . Then on the right side you'll find 2 Port additional USB 3.1 Gen 1, Ethernet and no Kensington Lock .
In terms of connectivity, this laptop uses Wi-Fi 6, MU-MIMO Support and Bluetooth version 5.
The DynaBook Portege X30L-G has an audio under the laptop, one on the right and one on the left. Looking at the audio and its location, the audio results will be better if you put the laptop on a hard surface. If you put the laptop on your lap, or put it on a soft surface, the sound that comes out will be damaged.
Of course, the audio quality on this laptop is not as good as other, thicker laptops. But, keep in mind that this laptop has a main goal in terms of portability.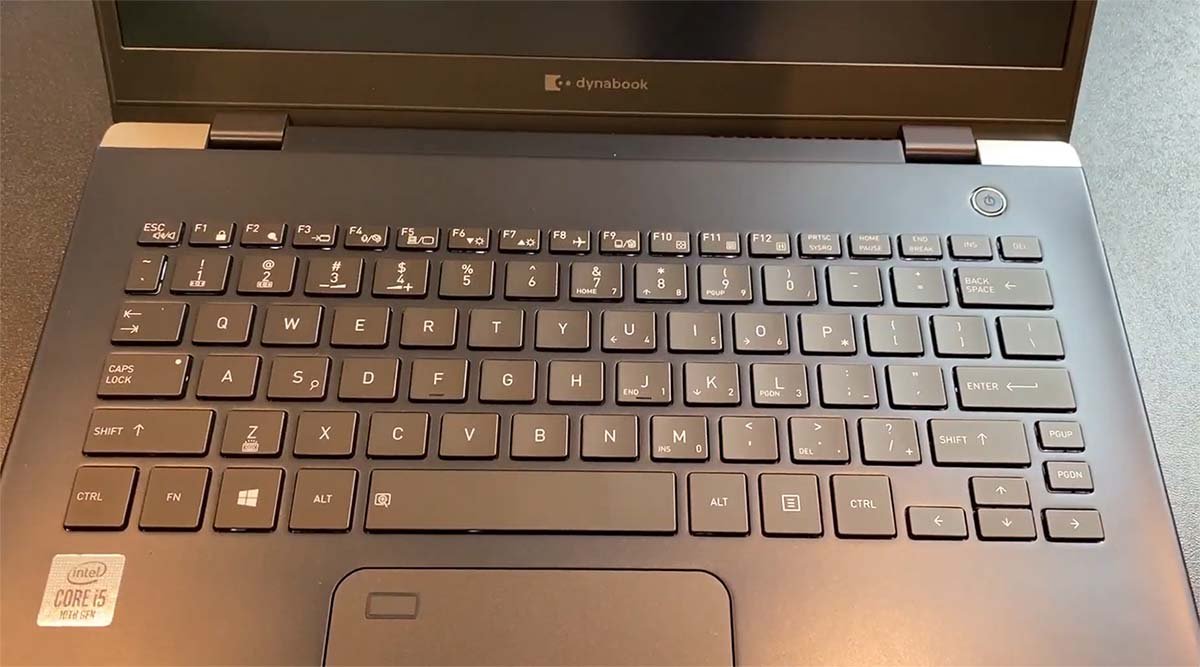 DynaBook Portege X30L-G Battery 
The capacity of this laptop battery is 42 Wh. Certainly not a group of laptops with large battery capacities.
To test battery life, we used this laptop for web searching tests and video playback at 1080P quality, 50% brightness , and 25% volume . Laptops can last up to 9 hours 30 minutes.
The results of this test are quite good for a laptop in its class, because this laptop has a very bright brightness even though the brightness level is only at the level of 50%.
Then for charging when the laptop is turned on, airplane mode , and 10% brigthness , this laptop can charge up to 43% in 30 minutes. Meanwhile, to fully charge you have to wait 130 minutes. When viewed from the charging test carried out, the results are in accordance with DynaBook's claims, namely every 30 minutes of charge you will get 4 hours of power.
The DynaBook Portege X30L-G that we are reviewing here is sold for 26 million. Very pricey , but keep in mind that this laptop is a special laptop designed for business.
Why is it said special and special for business? This is because the selection of the processor options on this laptop are Core i5-10210U, Core i5-10310U vPRO, Core i7-10510U, Core i710610U vPRO and Core i7-10810U Vpro (6c / 12t).
For storage, there is a PCIe NVMe SSD with a choice of 256 GB, 512 GB and 1TB.
The security features provided any optional, there is infra red camera and fingerprint scanner . One of the reasons that the DynaBook Portege X30L-G has such a high price is because I use Windows 10 PRO, a 3-year international carry-in guarantee that won't bother you when traveling abroad, and there is an on-site warranty upgrade option. and a warranty that can be upgraded up to 5 years!