Free WordPress Theme for eCommerce . In the smartphone era like today, many users access the website through their mobile phones, therefore if you have a website it must be responsive so that it can adapt to internet users' smartphones or tablets.
If you are a WordPress user, then you are lucky because now more than 77 million sites in the world are using this platform, it is very easy to get a theme for an eCommerce online store for your website.
Likewise, if you intend to have an internet business and intend to create an online store, then you should try some of the responsive WordPress theme for eCommerce below to increase the value of your online store website, and of course all of these themes are free for you.
Free WordPress eCommerce Themes
Here are the 5 best free WordPress theme for online store or e-Commerce sites with the WooCommerce WordPress plugin. You can download this theme for free and use it for your online selling business site.
Virtue eCommerce WordPress
The Virtue theme is very versatile with lots of options, easy to customize and loaded with great features. The theme has an integrated microdata schema taking it one step further for your site's SEO ranking. Clean modern design built with html5 and css3 and using Bootstrap's powerful responsive framework to make your website fully responsive and mobile friendly. Virtue adds full support for gutenberg and wide and full width blocks.
This fully supports ecommerce theme (WooCommerce) is ready with all the tools you need to design an awesome online store. The versatile design is perfect for any type of business, online store, portfolio or personal site. Virtue is a Schema ready theme.
This theme is built with a powerful options panel where you can set things like homepage layout, sliders, custom fonts, and really customize your look without writing any CSS or code. You will love this theme for how easy it is to work for you.
Qi Theme WordPress
Qi Theme is a WordPress theme for various types of sites, this theme carries a professional and minimalist design. For those of you who love minimalist design, you will definitely be interested in using this Qi Theme-made theme. This theme supports the latest WordPress and Gutenberg editors, while it is also compatible with page builders like Elementor, it also supports a wide variety of popular plugins.
You can find almost all types of themes for all types of websites on Qi Theme, be it personal sites, company profiles, interior design, online stores, agencies, education, online courses, construction, beauty and many more.
Styled Store eCommerce WordPress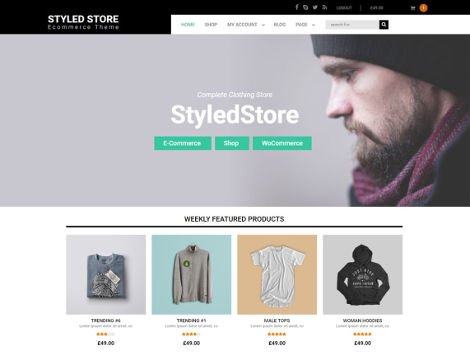 Styled Store is an amazing Free Responsive WordPress Theme with an elegant design designed for your WooCommerce online store and give your website a brilliant look. The Styled Store is an amazing and awesome resource, which is amazing, secure and inclusive which is rich in features.
This theme is light and fast to load. WordPress theme provide you essential features and very progressive functions to make your website more professional like widgetize WooCommerce Homepage, Blog layout, Blog page layout, Banner, Woocommerce Customizer, Slider options, widgets, etc.
This management tool makes your website more prominent and popular with customers which makes it easy to sell your products efficiently and uniquely. The theme is very easy to use, flexible and functional, easy to customize, responsive, versatile and intuitive interface.
eStore eCommerce WordPress
eStore is a Free Responsive WordPress Theme for WooCommerce online store theme with a clean, beautiful and fully customizable look. This theme has many premium feature packs and several custom widgets which help to make your online store professional and well organized.
The theme is fully compatible with WooCommerce plugins and Yith WooCommerce Wishlist. You as a WordPress online store owner, use this theme to attract customers and sell as many of your products as you want.
Shop Elite eCommerce WordPress
Shop Elite is a free responsive WordPress Theme specially made for clean, modern and professional eCommerce websites. This theme supports the popular WooCommerce online store plugin along with providing its own widgets and settings to further enhance WooCommerce features.
A theme with a clean interface and lots of customization options, you can now easily build any type of online store you want using WordPress and WooCommerce. This theme has a very attractive front page and is able to display most of your products and product categories, visitors will feel interested in browsing all your products using this theme.
Easy Store eCommerce WordPress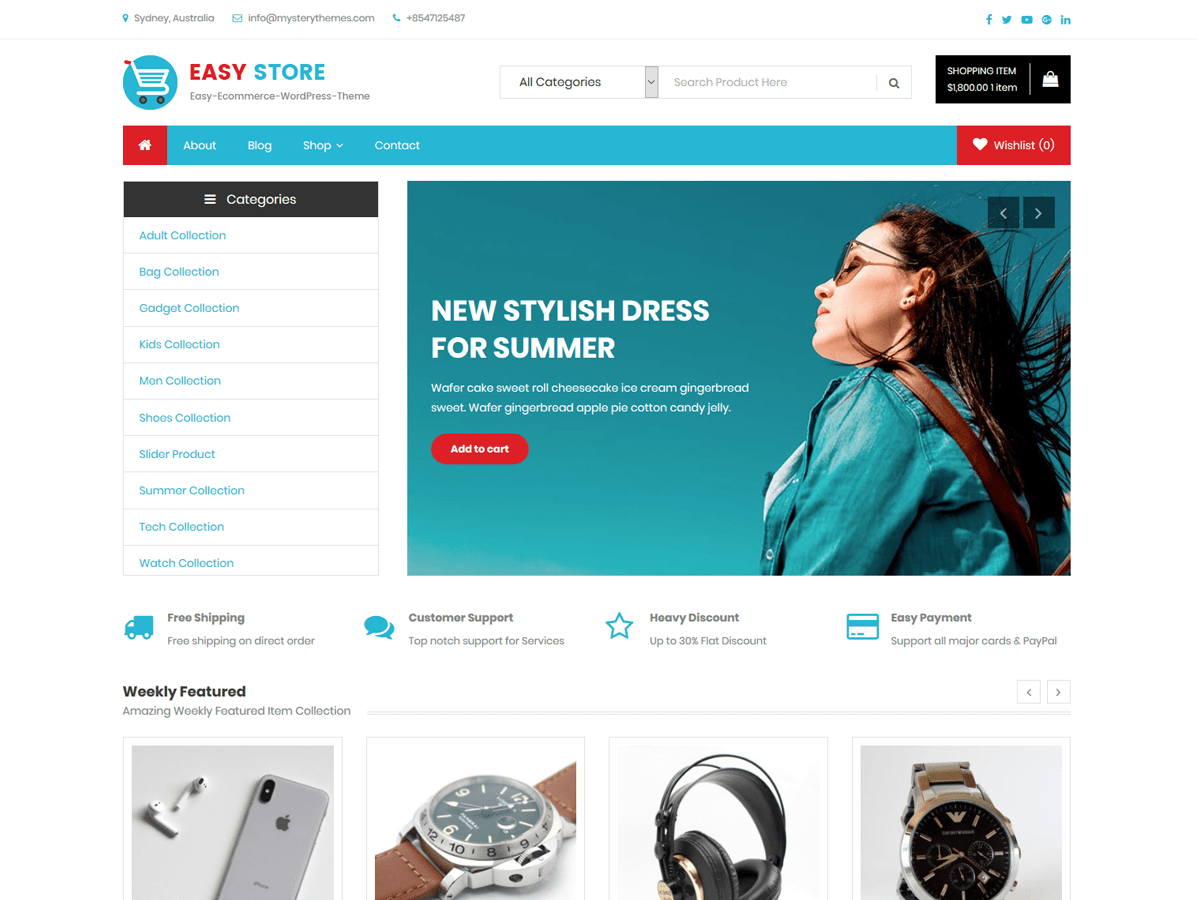 Easy Store is a beautifully designed Free Responsive WordPress Theme for e-commerce websites that is fully compatible with the WooCommerce plugin which is the most popular WordPress online store plugin. This theme comes with a clean and elegant design and is developer friendly.
Easy Store is fully responsive, translation ready, SEO friendly and compatible with WooCommerce, YITH WooCommerce Wishlist and other popular plugins. Use this theme for your e-commerce website, you will have the best experience ever and make your online store look professional.
And these are the five free WordPress theme you can use for your eCommerce online store. Please use this theme to create a website with a professional appearance, attracting the attention of visitors and of course making your website more trusted. Hopefully this article is useful for you and good luck.