Are there any of you who are bloggers and are looking for free and cool Blogger templates recommendations?
Blogger or Blogspot is a platform for writing and creating content that is easy to use, especially since this service is free. No wonder, if many people make websites using blogspot. Whether it's used for blogging or online business .
Now, in creating a free blog, starting from creating an account, making posts, choosing a name, to customizing a design, one thing that you shouldn't really miss is choosing a free and cool Blogger theme or template to display your blog design.
There are so many recommendations for free Blogger templates that you can download and use on your blog. Check out the choices!
Criteria for Choose a Blogger Template
Not all the free Blogger templates available are suitable for you. If you want your blog to be successful, then you must pay close attention to aspects when choosing a Blogger template.
SEO Friendly
First, your Blogger template must be SEO friendly. Yes, that's right, not only do you optimize SEO on the content or posts you create on your blog but also on your Blogger design.
Blogger templates must be professionally designed and created for SEO optimization, so that they can meet the need to be able to rank on the Search Engine Result Pages.
In the Blogger template, you have to pay attention to the schema, metadata, well-organized code , balanced heading and subheading parameters, alt text image insertion options, post widget features, correct layout, clear menu navigation, so that bots can easily crawl your blog website.
Also pay attention to whether this template has the latest Google algorithm update or not. If everything is all good, then with an SEO friendly Blogger template, you can get a lot of traffic to your Blogger
Responsive Design
Blogger templates must have a responsive design. Responsive design allows to load your blog according to the screen size of the device used by the people who visit your blog. Both from PC/Tablet and Smartphone. The template automatically adjusts the width and size of its elements.
With a responsive Blogger templates, your blog will look professional because it offers a consistent experience to blog visitors when they visit it from a smartphone or computer.
Blogger templates with responsive designs can also help attract traffic to your blog. The legibility of your blog increases, the menu navigation is clear for both computers and smartphones, so that visitors can easily interact and want to surf further on your blog.
In addition to blogs that have an SEO friendly Blogger template, blogs that have a responsive design are also preferred by Google so that you can have the opportunity to be on the Google search results page.
Fast Load
In addition to the SEO friendly Blogger template and responsive design, a fast loading template is also a criterion for a good Blogger template. By loading your blog website faster, your blog visitors will not run away because they are waiting for the blog to load perfectly.
The fast loading Blogger template has a simple design and few elements and widgets will be displayed, only the most useful and relevant to your needs. In this way, your blog website is not 'heavy', and you get the opportunity to rank on Google search results pages because of high traffic from blog visitors.
There is a Widget Insert Option
Widgets are additional features that are usually located in the sidebar or footer area of ​​your blog website. Maybe you've seen photo slideshows, Instagram/Facebook/Twitter social media icons, subscribe buttons via e-mail, most popular posts, calendars, and even ads. Well, those are all widgets.
The widget feature can make it easier for blog visitors and provide a good experience for them because it is easy to understand and access. Make sure your Blogger template can be inserted widgets that suit your blogging needs.
Has Good Support
Support here means that the Blogger templates maker can be contacted if you have problems installing and applying your Blogger template. Support does not only have to be found in premium or paid templates, in free Blogger templates, template makers usually also explain clearly how to download, install and customize the template design on your blog.
Even of them can provide videos or screenshots at every step. This is what makes free Blogger templates easy to use.
After you know how a Blogger template has good criteria and can help your blog's success, then it's time for you to choose a Blogger template from our various recommendations for free and cool Blogger templates.
Blogger Templates For Personal Blog
Personal blogs usually contain the author's daily stories, travel experiences, cooking recipes to stories with a partner, you know, guys. Because on Blogger, you can tell whatever you want to write.
Daisy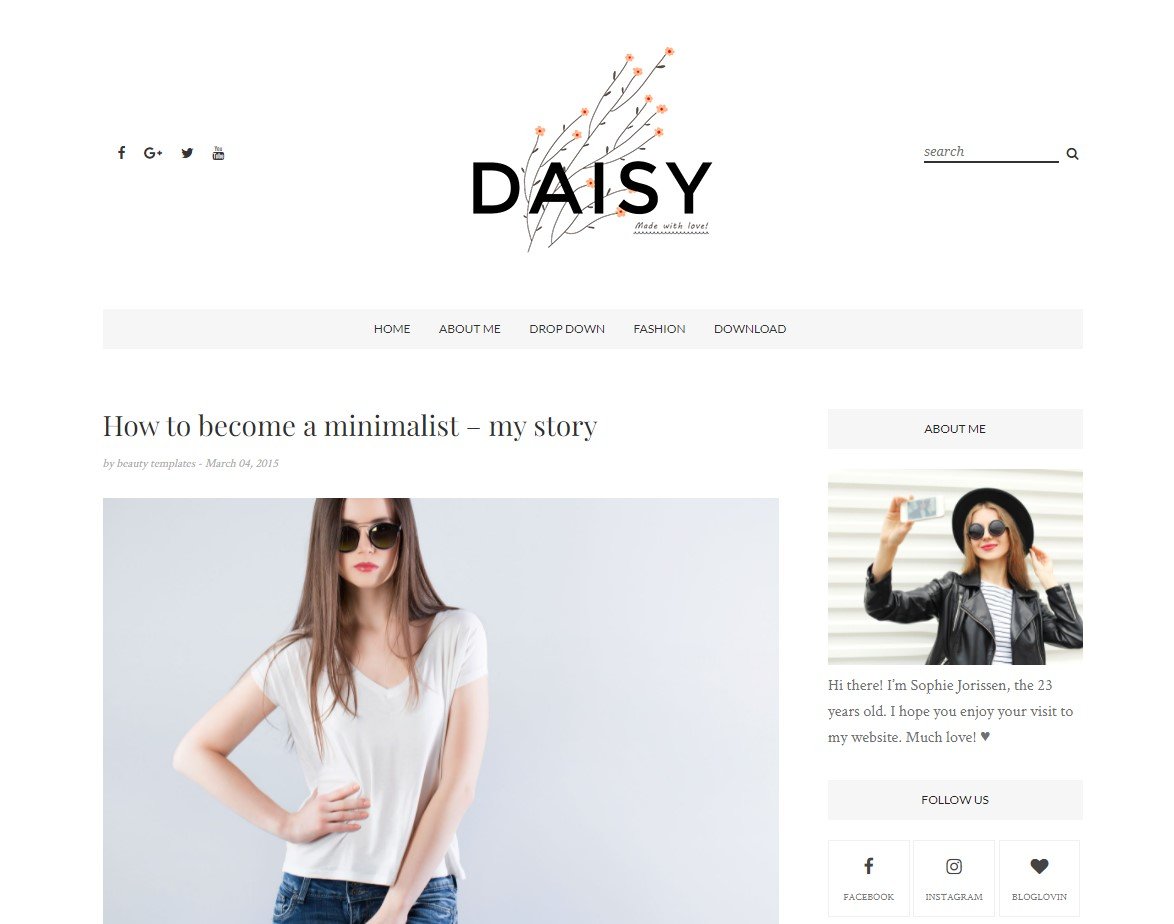 Daisy is a Blogger template with a simple, clean, modern design that adapts to trends and also still looks professional if you use it as a blog to personally share your daily stories.
This Blogger template is SEO friendly, responsive design so it looks perfect on all devices, you can insert a large selection of widgets as needed in the sidebar and footer, can customize colors and font types according to taste.
---
Sophia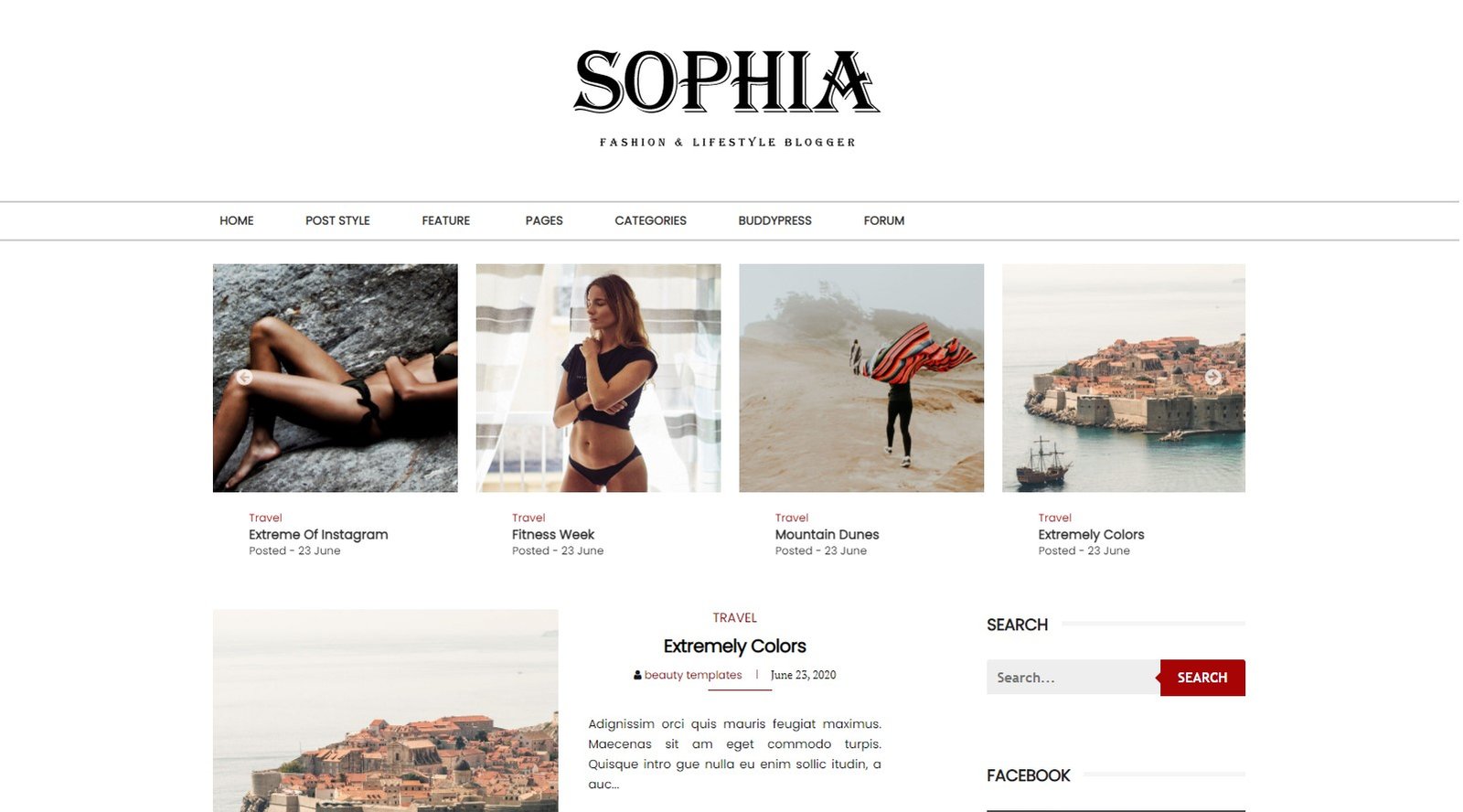 Sophia is also another simple Blogger templates, it has a simple, clean design, and there are lots of widgets. One of them is featured post slideshow at the top. In this section you can display your best choice of posts to attract the attention of visitors when they first see your blog.
The Sophia Blogger template, of course, is SEO friendly, responsive design, lots of widget options. This Blogger template is also suitable for personal blogs telling about daily life, travel blogs to fashion and lifestyle blogs.
---
Heather
Heather is a Blogger template that is suitable for personal blogs that can also tell about fashion, lifestyle, travel or food. Uniquely, Heather has a full width block which is also your featured post or the latest or best posts from your blog.
Heather has a post design that is grid but still accompanied by photos, titles and descriptions so you can attract visitors to read through it. Along with many options for inserting widgets, Heather also has a responsive design that keeps it pleasing to the eye on a variety of devices.
---
Backpack
The Blogger Backpack template is suitable for you travel bloggers or personal + professional travel guides. In this template, there are many choices of widgets, especially beautiful icons such as how many countries have been explored, the choice of the best restaurant or camping place.
---
Recipes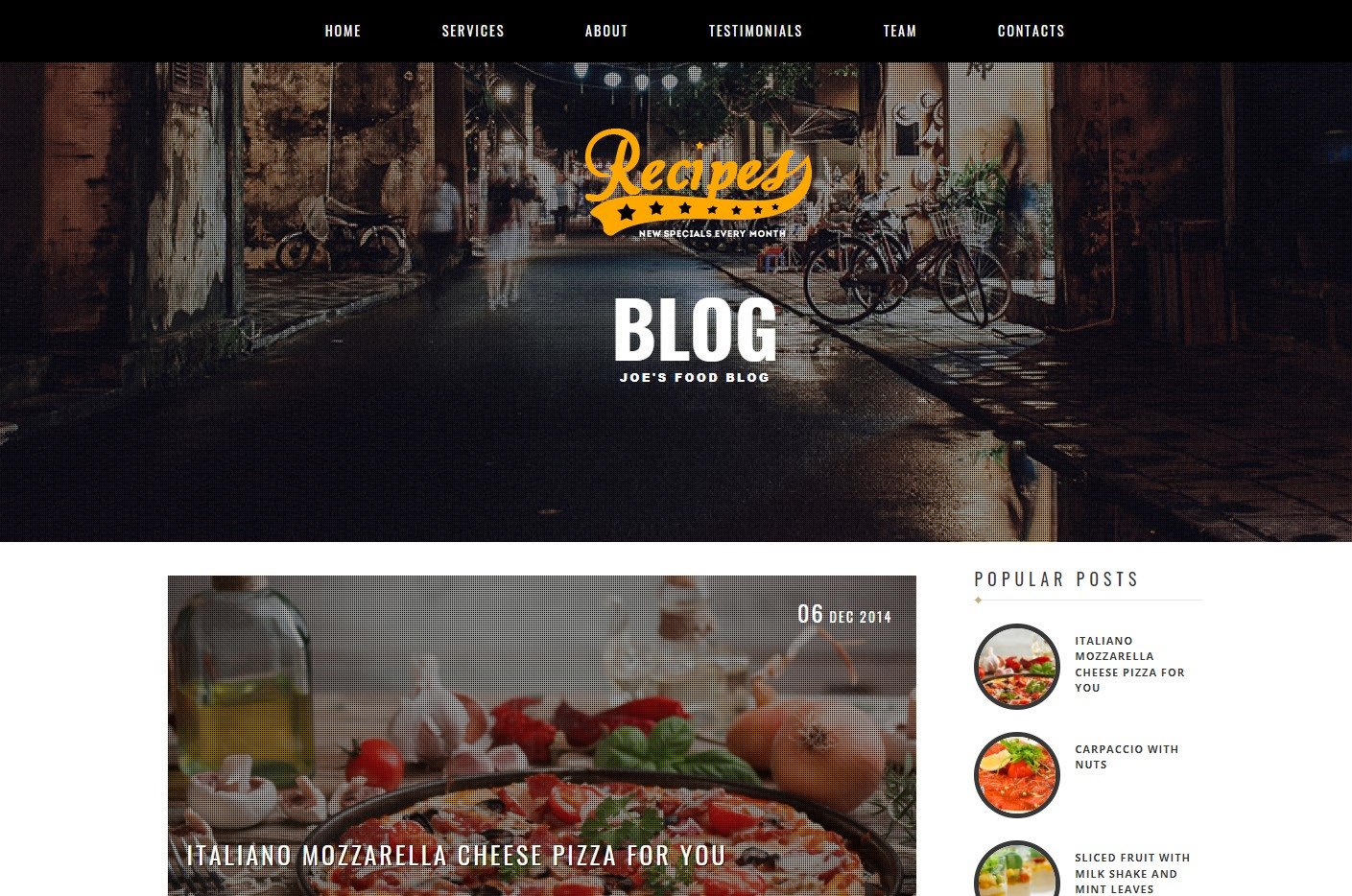 Now a Recipes Blogger template for those of you who run a food blog or cooking blog. With a template that features photos, you can display the best food photos you take so that they attract readers' interest when they visit your blog.
In this Blogger template you can also insert widgets such as popular recipes, recipe tags and others. So that blog visitors can immediately find what recipes they want to know and also your blog posts are well organized.
---
Deep Blog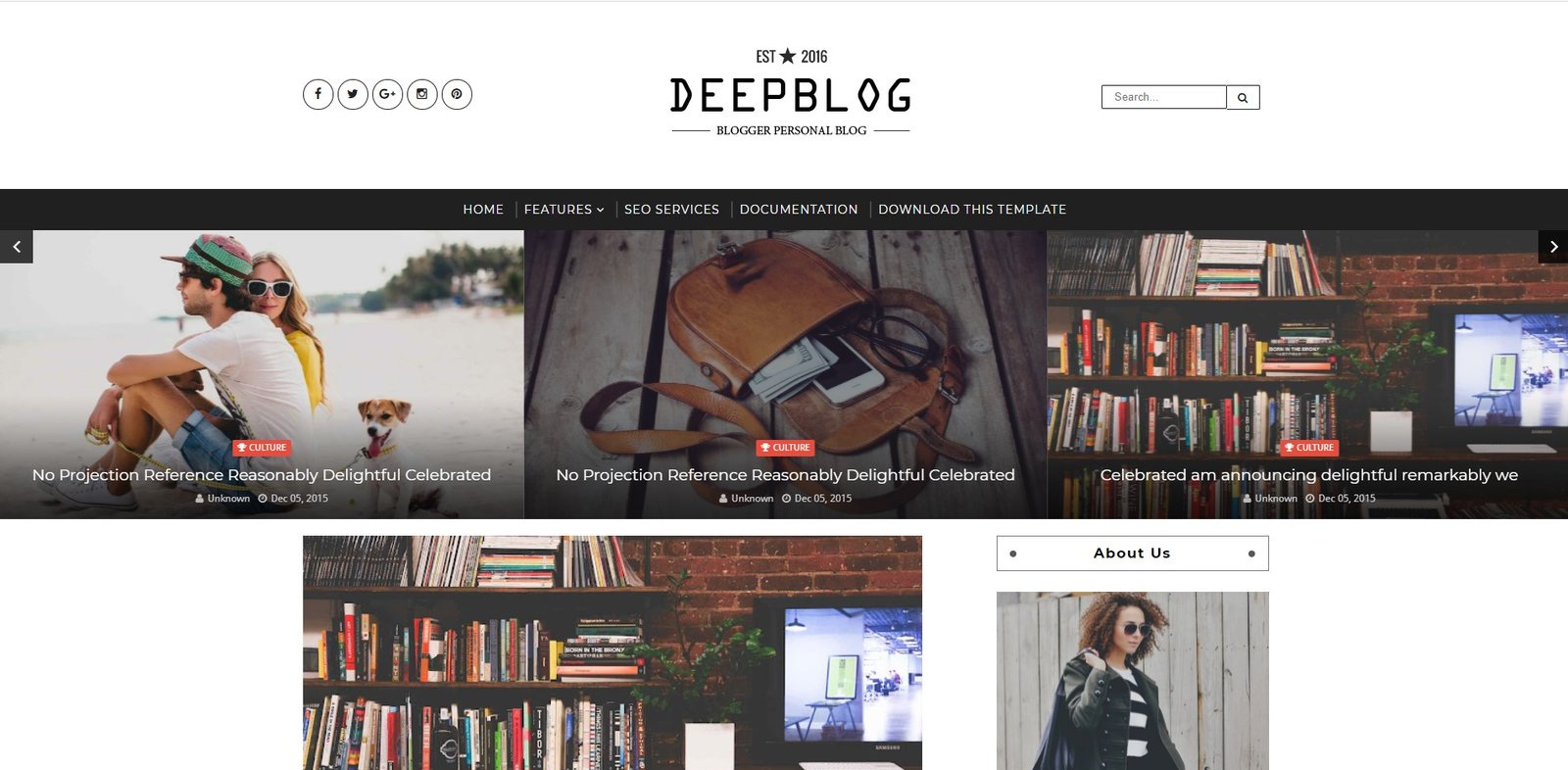 For those of you whose personal blog does not only focus on one topic but also likes to discuss the latest issues or news, the Deep Blog Blogger template can be an option. Deep blog provides posting features based on categories on the front page so that your blog website visitors are happy to be faced with various topics and can immediately choose what topics they want to read.
The Deep Blog Blogger Template is SEO friendly and also of course a responsive, minimalist design so that the blog website loads quickly.
---
Blogger Template For Magazine/News
Apart from personal blogs, Blogger can also be used as an online news media or online magazine for people to get the latest information or news. The following recommendations for free Blogger templates are for those of you whose blog website is magazine/news!
Mono
Are you bored with the menu above? Now in the Mono Free Blogger Template there is a menu on the left but on the right there is still a sidebar to put widgets and also in the middle for blog posts with various categories of topics written.
However, the responsive design of the Blogger templates makes the navigation menu adjustments on the left side remain on top, but everything is still the same! You can try this minimalist, SEO friendly and fast load design for free.
---
Kovid
With the Covid-19 pandemic that struck last year and still persists today, people certainly need accurate information about the COVID-19 pandemic every day. If you want to create a blog website to raise awareness of Covid-19 safety, the Kovid Blogger template can be used. There are icons, animated features, blog posts displayed on the front page.
This responsive Blogger template adapts to the blog visitor's device. And also not only devoted to the Covid-19 safety campaign, but also to increase social awareness and spread information about the virus, health and others.
---
Newcon
Newcon is suitable for those of you who want Blogger templates such as online media or magazines. Your posts that have their respective categories, such as breaking news, sports, food business, technology, beauty, fashion can appear on the front page in the prepared area. So your blog visitors can immediately choose what category of writing they want to read.
This free Blogger template recommendation from Mimin is of course SEO friendly, responsive design is pleasing to the eye on computers and smartphones and has many options for inserting widgets in the sidebar and footer. The design is also simple and clean so the blog will load fast.
---
Sora Times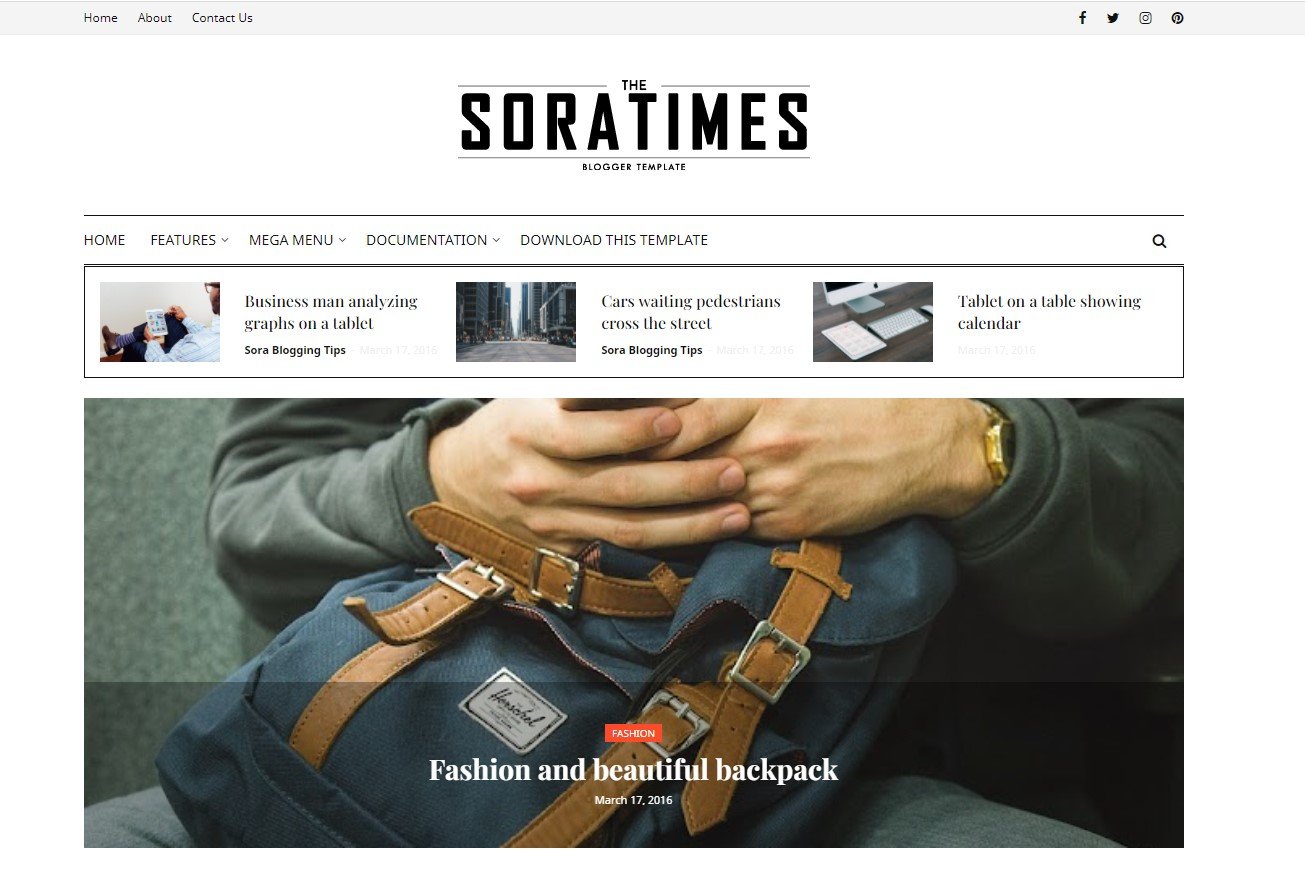 There are other options besides Newcon to get online news media/online magazine views. You can try the Sora Times Blogger template. Just like other Blogger Magazine/News templates, at Sora Times, blog posts with various categories from news, business, technology, fashion, lifestyle and many more can appear on the front page.
With the featured post feature at the top of your blog page, you can display your best or latest posts there so that it quickly attracts visitors' reading interest. With SEO friendly templates, responsive designs, you can bring traffic to your blog.
---
ChicMag
The ChicMag Blogger Template is also suitable for blogs that like to write news on various topics, especially about fashion, lifestyle, entertainment or traveling. Designed with a multi-option layout, all posts with various topic categories can appear on the front page. Of course, this Blogger Template is SEO friendly and has good readability.
---
SportsMag
This Blogger template can be used for those of you whose writings revolve around sports. Because there are many sports, on the front page you can also present writings with various categories of sports.
---
Blogger Template For Portfolio
Blogger as a website can also be used for your personal portfolio or your business portfolio. In your blog you can describe who you are and what you have done as well as testimonials and some examples of work.
Director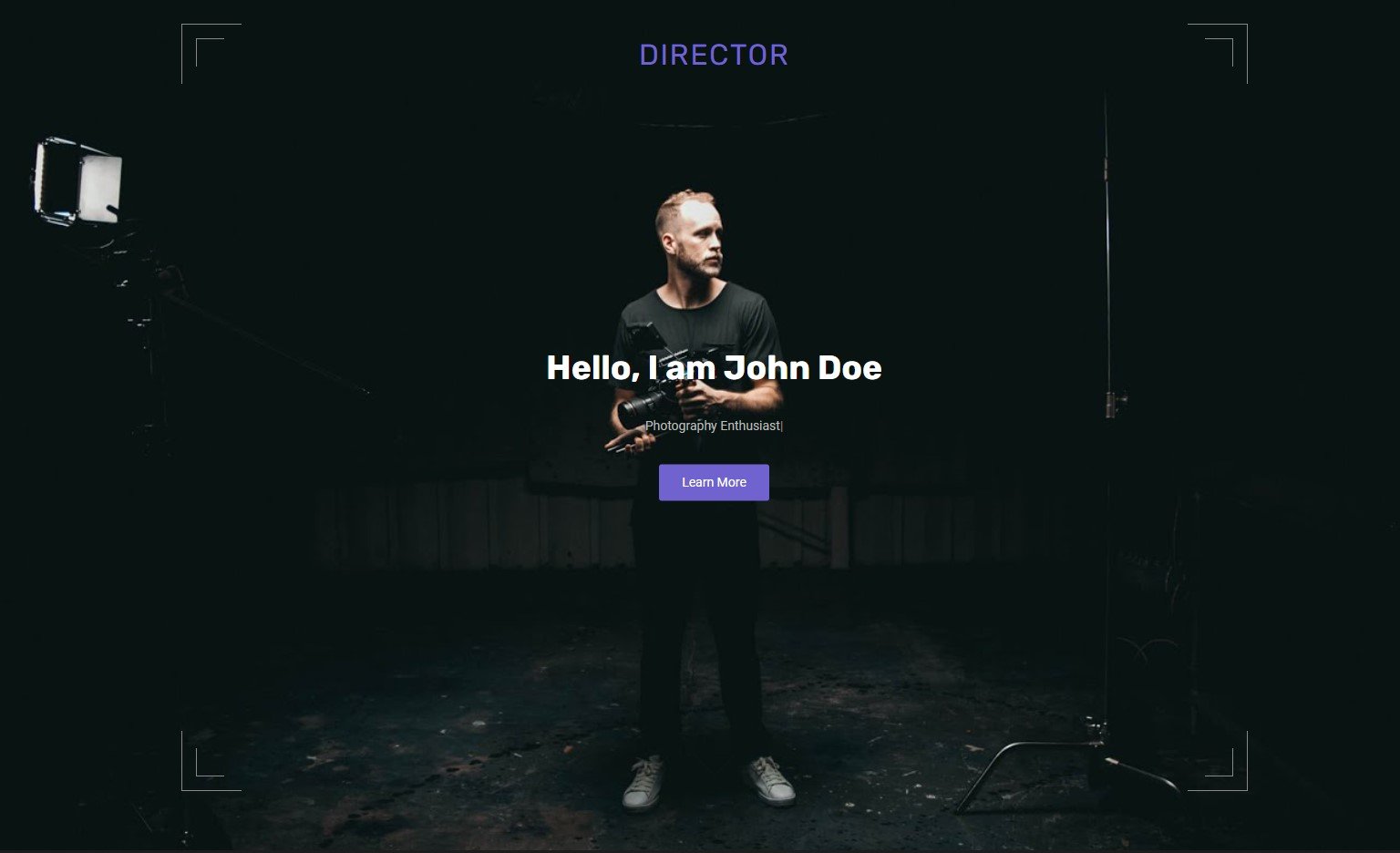 Blogger Director template is suitable for showing your professional works. With responsive design templates, your prospective clients can view your curriculum vitae and projects you've worked on via any device.
---
Folio
The Blogger Folio template can also be used as an option to display your personal portfolio on the blog. The existing features are still the same as the previous Blogger Director template. The design of this template is responsive even though it has animations on the icons and text.
---
Studio Press
The Blogger Studio Press template is still around being used for your professional portfolio. Uniquely, there is a menu navigation on the right and a wide header image for your name banner, for example. The Blogger Studio Press template also has a drag and drop feature so you don't need to bother coding to customize it.
---
Photonic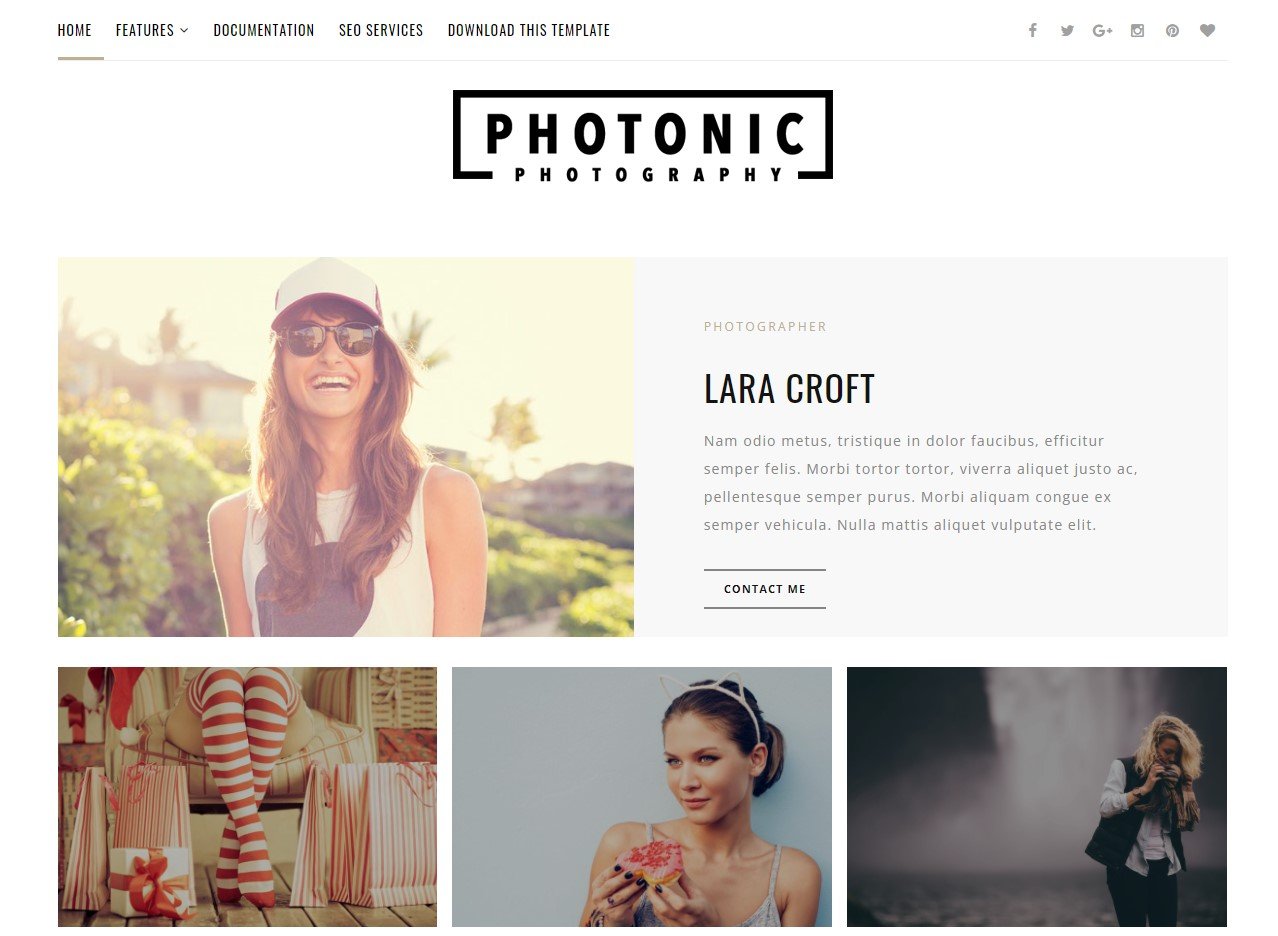 The Photonic Blogger Template is specifically for you photographers in displaying your portfolio in the form of photos. Your photos are displayed with a minimalist, clean and elegant design coupled with a typeface that supports the aesthetic appearance of the blog design. This template is also a responsive design, you know.
---
Basil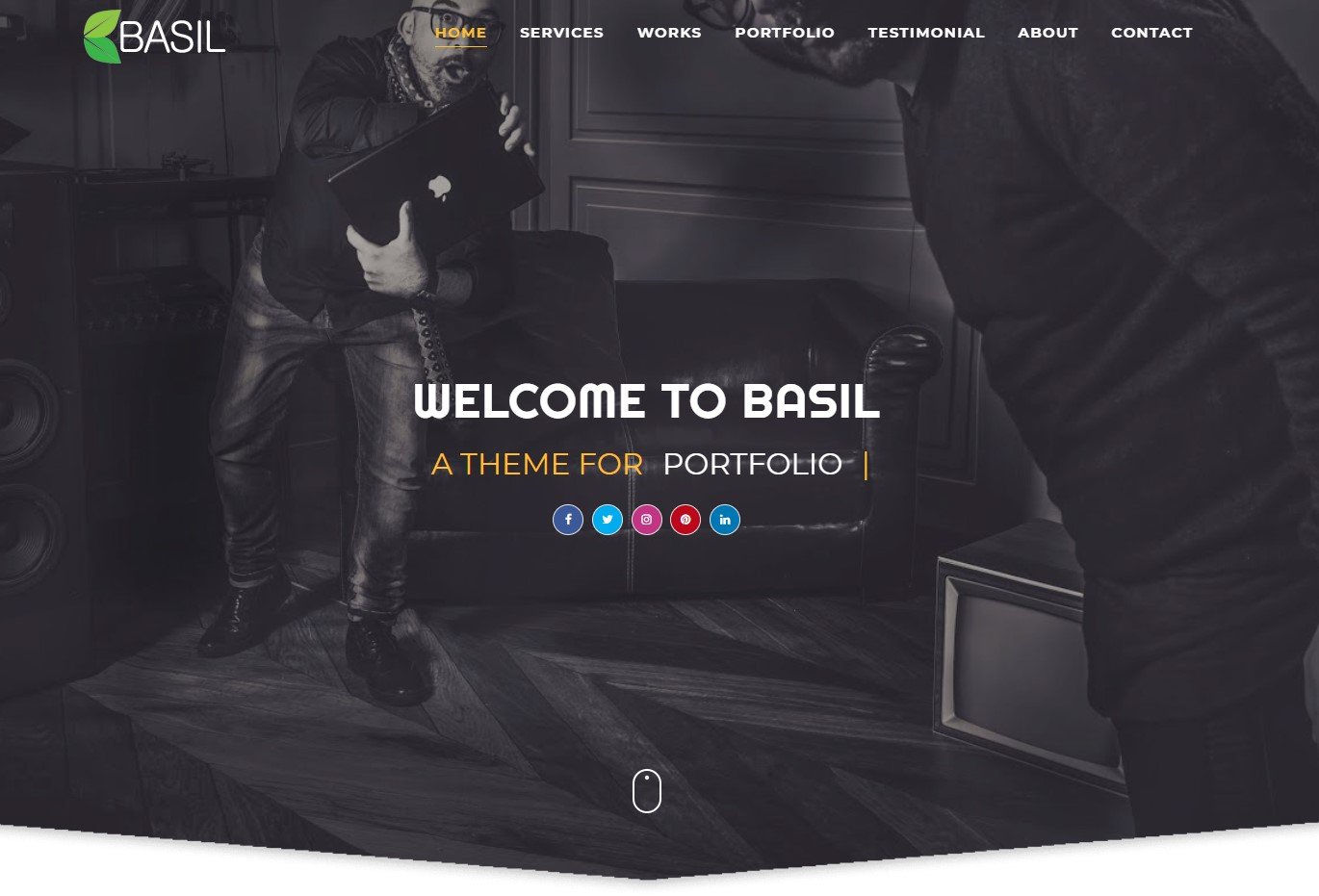 Is your blog website used for your professional business portfolio with a small team? Basil is a great free Blogger template for you. With the full width homepage, text or photo content can appear with animation and provide a unique experience to visitors, clear menu navigation, what are you waiting for?
The Basil Blogger template is suitable for you to describe your portfolio as a digital marketer, web designer to illustrator and photographer. You and your team will look more professional and cool using this Blogger template, which is of course responsive design and fast loading even though it has animation features.
---
Freebify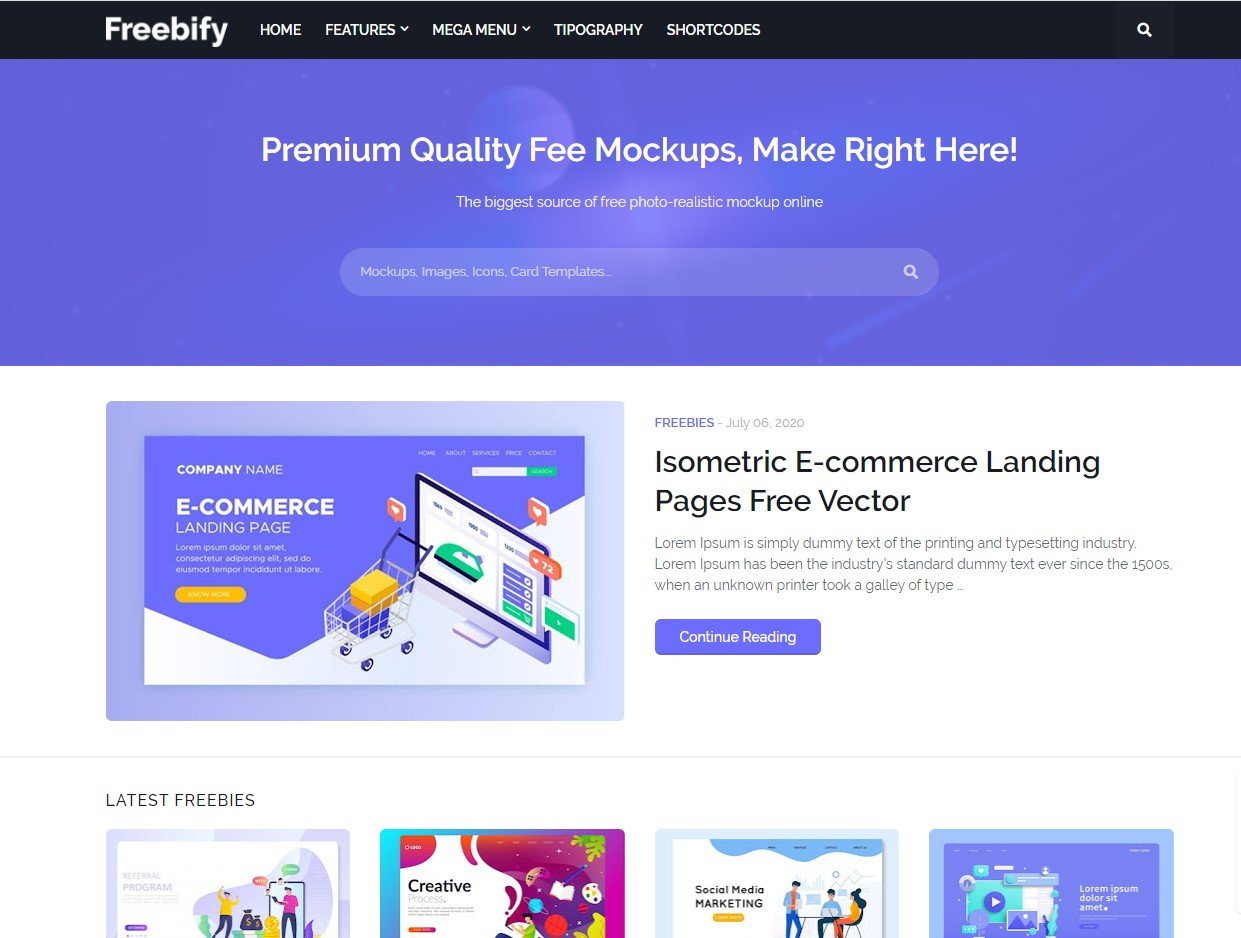 The next free Blogger template recommendation, especially for portfolios, is Freebify. With the Freebify Blogger template, you can display the works you've worked on, what services you can handle as a web designer, illustrator, digital marketer, website developer and many other examples of professions.
---
Blogger Template For Online Store
By blogging you can earn money. You can turn your blog into an online store by using the recommended free Blogger template from mimin which is specialized and has features like an online store website!
Books Cart
The first recommended free Blogger template for online stores is the Books Cart template. This template is devoted to selling one type of product, such as books consisting of various genres such as comic book genres, mysteries, novels, academics and others.
On the homepage, you are greeted with a search column that makes it easy for you to find the name of the product you want and there is also a navigation menu for each genre. Or you can also search by the name of the author of the book.
In this Blogger template there is also an add to cart feature for purchases and the photo has shown the book price/discount, useful for attracting buyers when they just enter your online store.
---
Boutique
The next free Blogger template recommendation is the Boutique template. This Blogger template at first glance is very simple, clean, minimalist, but there are soft and authentic ornaments such as discount tags on products that are shaped like cloth. There is a featured post slideshow to showcase your best or best-selling product highlights.
This Blogger template is suitable for selling necessities such as towels, patterned bags, knitwear because of the soft feel of the template.
---
Souq Store
The Souq Store Blogger Template is suitable for you online businesses to display your selling products with the best appearance. There is an add to cart feature, now buyers and you can transact with just one click. You can serve purchases from anywhere and anytime.
You can use this free Blogger template with a responsive design to display your selling products in the form of gadgets, men's and women's fashion, electronic devices and much more.
---
SoraCart
SoraCart is the next free Blogger template recommendation from Mimin. At the top of the template, there are many clear menu navigations so that potential buyers can directly enter the product category they are looking for.
SoraCart also has a large banner for you to display your latest or best-selling products. On the front page, each product from various categories appears so that blog visitors can see the variety of products you sell.
---
Sora Shop
Just like SoraCart, Sora Shop's free Blogger template also has menu navigation on the topbar, banner images to display the latest, best-selling products that are currently on discount. What's unique is that at the top it is immediately displayed in the right and left column, each product category and product name, so that potential buyers can immediately click to find it.
---
Sora Store
Sora Store is also a free Blogger template that is suitable for those of you who want to highlight product photos. On the front page, prospective buyers will be greeted with photos of the product along with the product name and category. If you want to see more information, blog visitors can click on it.
Uniquely, there is a shopping cart widget displayed on the right sidebar. So prospective buyers can immediately know the total price of all the products they want to buy.
---