The motherboard is an important component in a PC which is a place to install various peripherals and components. In the past, the choice of the motherboard and chipset was sufficient to determine the performance of a PC. However, nowadays various features that were on the motherboard have slowly begun to be integrated into the processor, starting from cache memory, memory controller, PCIe controller, to some voltage regulator components. There are also certain platforms that integrate the entire motherboard chipset into the processor, which we call the System-on-Chip (SoC) design.
This makes choosing a motherboard even more "confusing" for the lay user, so we at Matob feel the need to briefly explain some of the things you might need to pay attention to when choosing a motherboard.
Choosing a Motherboard: Choosing a Platform
You may already know this part, but we want to remind you once again that the choice of motherboard will certainly determine which platform you use for years to come, and what class of processor it is. No processor socket is eternal, because surely every technology change will be followed by some fundamental changes that make processor manufacturers change the socket. So make sure that when you choose a particular platform, there will still be a processor that offers you room to upgrade to the processor you want (unless you plan to replace the whole PC during a major upgrade, this is fine too).
As an illustration, if your funds are limited, don't force it to choose the X99 socket LG2011v3 platform, because this platform is clearly aimed at the high-end class with the neck-grabbing price of processors and DDR4. Conversely, for example, if you want to choose a cheap AMD A68 chipset, FM2 + socket, also make sure that you don't need a 6-core or 8-core processor because so far these platforms don't have 6 or 8-core processor options.
also read : Computer Networking Basic: Definition, Topology, and Types
Chipset: Not 100% Determines Performance, But Determines Features
In the past, choosing a chipset was sufficient to determine the performance of a system because most of the important components were still in it (such as the memory controller). Since the memory controller is already in the processor, the difference in motherboard chipsets on the same socket / platform will not produce much different performance, if all the configurations are the same (for example a Core i5-4670K on an H81 motherboard will have similar performance to a Z97 motherboard with single GPU configuration, one SATA SSD / HDD Drive and DDR3-1600CL11). .
What you may need to pay attention to in terms of performance are the limitations of the chipset on the features you need, for example: support for overclocking, RAM speed support, Multi-GPU Mode if any, and also some storage operation modes that certain chipsets / motherboards offer (RAID Mode) , NVMe support, etc.). A higher-end chipset may not necessarily provide better performance, but it could have more features.
For example, some of the most noticeable performance differences between cheap and expensive chipsets are on the Intel Haswell platform. We have compared the Z-series chipset (Z87) with the B85, here the Z87 has support for high-speed RAM (DDR3-2933 ++), while the H81, B85 and the like will have a limit at DDR3-1600.
So, in the example above, is the Z-Series chipset any better than other low-end series chipsets (B85 / H81)? It depends.
If you use RAM that can run faster than DDR3-1600, then yes, the Z87 / Z97 chipset is better. Conversely, if you only have DDR3-1600 RAM, the Z97 and H81 chipsets will give you the same relative performance.
As the next example, if you choose the cheapest Intel platform currently with the H81 chipset, you only have the maximum support for DDR3-1600 RAM speeds, and those of you who want DDR3-2133 / 2400 and above must have a Z-series chipset (Z87 / Z97 ). On the other hand, cheap AMD platforms generally do not have these limitations, which makes low-cost APU users with the A68 chipset still able to use DDR3-1866 or DDR3-2133 RAM to increase their integrated graphics performance.
On the platform you have, look at the list of chipsets available, then see what sets them apart in terms of features, and choose from there.
Form Factor: Specify Expansion Slots, NOT Performance
We want to make it clear here that the size of a motherboard does not determine its performance. What is lacking on a small motherboard (mini-ITX or micro-ATX) is the relatively smaller number of expansion slots than large motherboards. Yes, you will lose multi-GPU capabilities if you use a motherboard with a mini-ITX size, but using a mITX motherboard will usually care more about the small size than the multi-GPU option.
Expansion Slots: Define Upgradeability
Seeing that most motherboards already have similar performance, we see that sometimes the number and types of expansion slots available from a motherboard is one aspect that is quite important. This can differentiate between motherboards that provide 'makeshift' features from those that provide generous expansion.
So when you choose your motherboard, take into account the number of expansion slots you may need, and what the motherboard has to offer, such as:
Types and number of connectors on the I / O Backpanel
Number of DIMM Slots
Number of PCIe Slots and their configuration
Number of ports for storage (SATA / M.2 / Sata Express, etc)
Legacy connectors / slots for legacy peripherals (PCI, COM, LPT)
Additional connectivity (Wifi / Bluetooth / NFC)
also read : type of port on computer
Equipment + Software / Utility: Interesting Additions
More audio quality, high-performance LAN chips, extra connectivity, or even additional software utilities can make certain motherboards more "special" in the eyes of the user. If you're looking for a value that gives you this 'wow' factor and do have the budget to make up for it, why not?
Aesthetic Value: Depends on Taste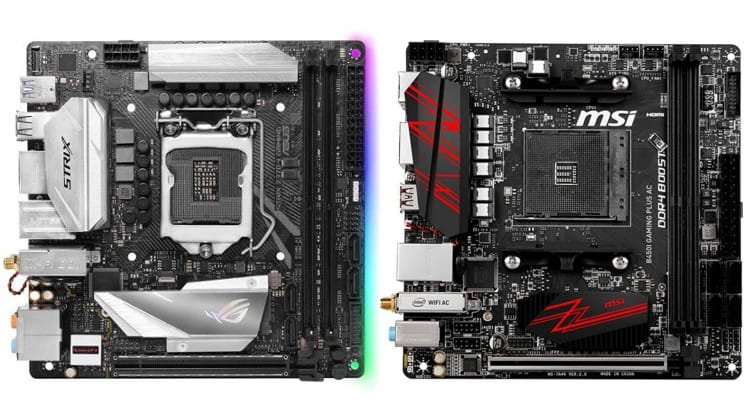 This point sometimes makes us, the reviewers, a little confused. Over the years, we have judged a motherboard in terms of functionality, and appearance was a plus (and not one of the priority scoring points), after all when it was placed in a case that had no side windows, we couldn't see the motherboard. But we understand that many users are interested in "showing off" their PC peripherals, and motherboard manufacturers are starting to care about the "beauty" of their motherboards.
So if you are planning to show how 'fierce' your gaming PC can be, don't worry, motherboards with different hues of colors are easy to find.
also read : build AMD hackintosh PC
Overclocking Features: Need Extra Performance?
We will not discuss more about overclocking in this section, because later it will be discussed more specifically by our colleagues at Matob . However, you need to know that there are some motherboards that provide extra extra performance by providing various Overclocking features. Sometimes, the overclocking feature is very easy to activate by clicking an option in the BIOS.
Durability: Quality Components Extend Service Life
The aspect of durability is something that we cannot easily assess in lab testing, because so many factors will influence this. Based on our experience of several years testing various motherboards, one of which will have a big enough factor in the durability of a motherboard is its power regulator component (Voltage Regulator Module-VRM). Our colleagues from Matob also agree that it is the VRM module on a motherboard that is 'tortured' the most when the system is under load (especially when overclocking).
There are quite a number of manufacturers who care enough about providing high-quality components in their VRM, but unfortunately how good these components are cannot be quantified easily. More number of phases is not always better, because what happens when using a large number of phases is the division of labor (load balancing) between the various components. The quality of the components (generally MOSFETs, Capacitors, Chokes) used in each phase may be more important in certain scenarios, not just the number of phases.
If durability is your priority, try to at least look for motherboards whose MOSFETs are adequately cooled (heatsink / heatpipe), as they have the potential to have lower working temperatures, making your components more resistant. Also try to look at certain motherboards that are labeled as "overclocking" products, usually products that are prepared for overclocking have components that are more "resilient" than regular motherboards.
also read : 10 Lightest & Fast Android Emulators
Budget: Use it Wisely
Finally, once you have looked at the various options your motherboard of choice can offer, it will all come down to your own needs and funds. It sounds cliché, but we often see users who do not place their motherboard purchase priorities correctly, so the selection is not quite right.
For example, an AMD FX-6300 user who chooses the processor because it is overclockable, is not suitable if he chooses a low-end 760G motherboard product with mediocre VRM specifications, because this clearly contradicts his needs. Of course, users like this are advised to look for a mid-range motherboard with adequate VRM specifications (and incidentally the only chipsets available for it so far are only 970 chipsets, not 760G).
There are also cases where users of the AMD APU platform with a limited budget choose mid-range A88X chipset motherboards and above, just to pursue some of the 'bling' features that are not really necessary. It would be wise if these users lower their motherboard choices to the A68 chipset, and use the rest of their budget to buy DDR3-1866 / 2133 RAM which certainly has a good effect on integrated graphics performance.
Write down and list your needs based on priority, then create various kinds of configurations to suit your budget, and we believe this will eliminate regrets in the future.
Closing
Those are some things you need to pay attention to when choosing a motherboard. We are sure you also at least have your own calculations and priorities when choosing a motherboard later, always remember that your needs will not be the same as the needs of others. DO NOT buy a motherboard to "follow" what your colleagues have, because your priorities should take first place.
Keep up with the various reviews about motherboards on Matob , and of course the review of the overclocking features of a motherboard that our colleagues from Matob will make. Hopefully our article is a little help for those of you who are dizzy looking for a motherboard. See you later!